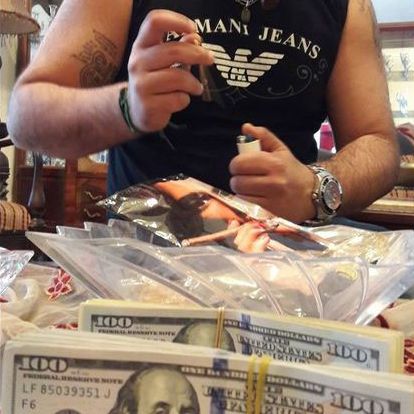 A post from one of the sellers.
Photo: DM/Le Monde
A recent investigation by French news organization Le Monde has uncovered that social-media platforms like Facebook and WhatsApp have become increasingly popular in the blood-diamond-trafficking community.
Sellers rely on the apps to advertise their products and network with buyers, according to Sader, an illegal-diamond trafficker interviewed by Le Monde. This change in methods has resulted in a big boom for business: Sales in illegal Facebook groups dedicated to these endeavors can carry a price tag that ranges from the modest to the extreme, with many buyers dropping hundreds of thousands of dollars on a single purchase.
Facebook has allowed diamond traffickers to expand the reach of their criminal enterprises far beyond their usual geographic constraints. Buyers can seek out sellers in remote areas who they might not have previously been able to find, and even request a delivery service for their purchase in order to minimize the hassle of distance.
Unfortunately, these traffickers are not alone in their use of social-media networks as a means to buy and sell illegal items. Facebook groups dedicated to the trafficking of arms have popped up recently in Libya — six of which were shut down after an investigation by the New York Times — and in a number of closed groups in Nigeria, members can even buy barrels of stolen oil.
Facebook has suffered through a number of high-profile crises over the last year — from the ongoing fake-news epidemic, to the horrors of public revenge-porn posts — and each time has responded in turn with the rollout of a variety of new features meant to combat the issue at hand. But it seems likely that the rise of much more explicitly criminal activity such as this — which obviously can't be effectively handled by the mere addition of a new option under the "Flag" button — is going to warrant some more serious changes.