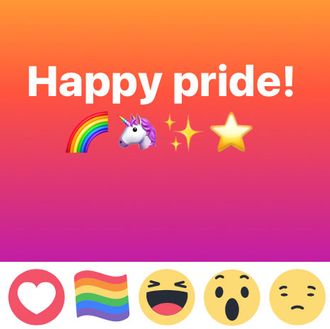 June is Pride Month, which means 30 not-so-straight days of companies suddenly getting woke, incorporating rainbows into their logos, and, if you're Hellmann's or Abercrombie & Fitch, sending some very ill-advised tweets. Facebook, for its part, rolled out a limited-edition reaction emoji in honor of Pride, shaped like, of course, a Pride flag. It is only available in select areas, and the emoji will vanish after the month is over. To find out that you're one of the chosen, you first have to like the LGBTQ@Facebook page.
"People in major markets with Pride celebrations will be able to use a temporary rainbow reaction during Pride month," a Facebook representative told Select All about the rainbow-emoji rollout, adding that the company also released Pride-themed camera filters and profile-picture frames. But users commenting on the LGBTQ@Facebook page think they've found a pattern as to the places the emoji isn't available, namely places, like Egypt and Singapore, where LGBTQIA people face severe discrimination under local law. Facebook declined to answer our questions as to whether or not these laws were considered when choosing which locations would get access to the emoji.
"You can also like our LGBTQ@Facebook page to access the reaction, however, because this is a new experience we've been testing, the rainbow reaction will not be available everywhere," Facebook also said. Part of the selectiveness of the rollout feels more like clunky technology, rather than pointed geofencing on the company's part. Reading the comments on the emoji's announcement on the LGBTQ@Facebook page, you'll find commenters who live in the same city, Washington, D.C., debating whether the reaction emoji is actually available there because it appears only some users have been able to get it to work. Because users have to opt in, by liking Facebook's page, there also seems to be a pretty decent probability of user error contributing to the confusion, too.
If you're an LGBTQIA-identifying person, or an ally to them, chances are that Facebook already knows this, based on your likes and interactions. On the unlikely chance that it didn't already, liking the LGBTQ@Facebook page will definitely do the trick, a piece of personal information Facebook now owns about you in exchange for a colorful emoji. (One which, frankly, could have taken a cue from Twitter in being more trans-inclusive. The rainbow flag isn't the only one getting waved this month.) In a way, by asking users to opt in to using the flag emoji, Facebook is asking users to out themselves. It's asking users to confirm that a Pride flag, and what that flag stands for, is something they want to see in their day-to-day Facebook use. Imagine if this worked the opposite way, forcing people who didn't want to access the emoji to like a GayNotOkay@Facebook or AdamAndEveNotAdamAndSteve@Facebook page to make it vanish from their feed. (Bigots@Facebook might be a more apt name.)
This year, in honor of Mother's Day, Facebook rolled out a different limited-run, selective-release reaction emoji, a purple daisy. "The flower reaction was available in places that celebrate Mother's Day," Facebook told Select All. On Halloween, the entire suite of reaction emoji was replaced with spooky counterparts, a plan that backfired when the emoji were also retroactively added to old posts. Turns out, angry-faced jack-o'-lanterns aren't the best way to let people react to news of an active shooter. In neither case — the Halloween suite or the Mother's Day flower — were users asked to elect to use the emoji; if a user lived in an area that celebrated the holiday, the emoji just appeared. There was one special reaction recently that users had to opt in to use: an emoji celebrating the 50th anniversary of Star Trek. "The company seems to have grouped interest in LBGTQ rights into the same category," Quartz writes. Because the stigma surrounding being a Trekkie and being queer are clearly of equal gravity.
Facebook's line about only releasing the Pride emoji in "major markets with Pride celebrations" makes sense enough. The company continues to struggle with finding a way to respect customs and laws in places much less liberal than the one in which it's headquartered. Would rolling out the Pride emoji globally have sent a strong message about Facebook's support of the LGBTQ community around the world. Absolutely. But that's not what Pride, at least for brands, is about. As noted on Twitter by writer and activist Jillian York, queer people in places where it's dangerous to be out "know the risk" and likely, for their own safety, wouldn't have used the flag anyway. But the option would have been nice.
There are people in places that celebrate Mother's Day who would probably, for any number of reasons — estrangement, abuse, death — rather not be reminded of that particular Hallmark holiday. There are people in Halloween-observant countries whose religions don't permit them to celebrate. Facebook never asked those folks to confirm whether or not they wanted those emoji. They just woke up one day and there they were. When the company rolled out its Halloween emoji, Facebook PR sent branded baked goods shaped like ghosts and Frankenstein heads to my office. When the company rolled out its rainbow-flag emoji, it asked me to like a page to make absolutely sure that I, a gay resident of one of the most queer-friendly cities in the world, was 100 percent down with celebrating Pride. I am, Facebook. Why aren't you?