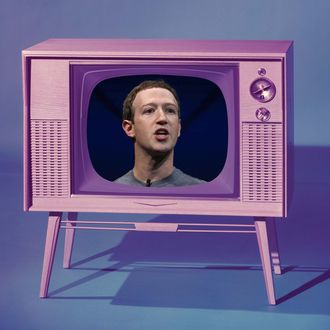 Photo-Illustration: Select All; Photos: Getty Images
Following its standard approach of "well, everyone else is doing it," Facebook is inching closer to its own original programming later this year. Early this week, it was announced that the reality-TV show Last State Standing, and the second season of MTV's Loosely Exactly Nicole would eventually premiere on the platform.
When these shows, and the others that Facebook is presumably inking deals for, will premiere has not been set (the obvious answer is autumn). According to Bloomberg, "Facebook isn't trying to compete with the highest end of that market — paid services Netflix, HBO and Showtime. It has its sights set on cable networks and advertising-supported online services with young viewers." It is probably also interested in cutting off Snapchat, which also features a slate of original programming.
Bloomberg states that there will be two kinds of shows, referred to as hero shows (big tentpole releases) and spotlight shows (shorter, breezier stuff from web outlets like Vox and BuzzFeed). Hero shows can cost up to $200,000 an episode, and are exclusive to Facebook. Spotlight shows range between $10,000 and $20,000, and are only exclusive for a limited time. Facebook, which is free, will likely subsidize the programs with pre- and mid-roll ads.