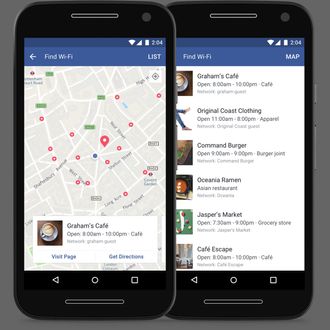 Facebook announced its new mission statement — "to give people the power to build community and bring the world closer together" — earlier this month. Today, it rolled out a new feature that seems to align with those goals. Android and iOS users will soon be getting a feature that shows available Wi-Fi networks, TechCrunch reports.
The Wi-Fi finder was first tested with select iOS users in certain countries last year. Starting soon, everyone will be able to use the feature on their mobile devices. "The company explains the addition is useful for those times when you're traveling, but especially so when you're in an area where cellular data is 'scarce,'" TechCrunch also reports. To access it, check under the "More" tab in the Facebook mobile app.
The feature follows this week's announcement from Mark Zuckerberg that his company has finally reached 2 billion active monthly users, just five years after hitting the 1 billion mark. That's a whole lot of people looking for Wi-Fi. And, also, a whole lot of people telling Facebook exactly where they are, and where they need to connect, at all times.