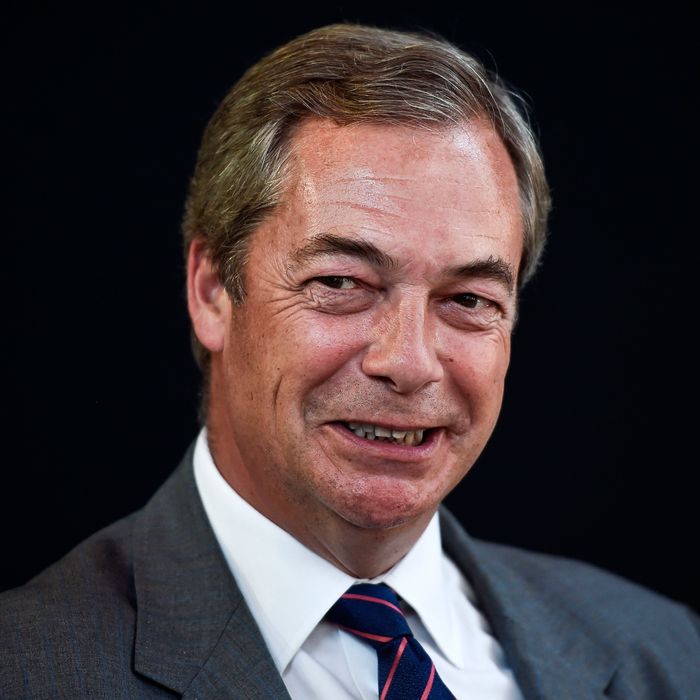 Person of interest.
Photo: Patricia de Melo Moreira/AFP/Getty Images
Nigel Farage, the alcoholic father of Brexit — who was last seen cackling, "Well, you're not laughing now," at the European Parliament — is a "person of interest" in the FBI's investigation into Trump and Russia, the Guardian reports.
Farage was a right-wing populist before it was cool (and/or when it was still called "racist"). A founding member of the U.K. Independence Party, Farage was trying to make his country great — by making its Muslim citizens feel unwelcome — back when Donald Trump was still doing cameos in Macaulay Culkin films.
Steve Bannon admired his work.
Farage first met Bannon in 2012, when the future White House strategist was reading up on Europe's right-wing movements, and invited Farage to spend a few days in New York and Washington. During that trip, Farage also met the staff of future attorney general Jeff Sessions.
The former UKIP leader was a vocal supporter of Trump's campaign in 2016. Shortly after the triumph of his Brexit campaign, Farage dined with Trump's longtime political adviser and infamous "dirty trickster" Roger Stone, according to Roger Stone, anyway. Stone publicly predicted the hacking of the Clinton campaign's emails, and has admitted to exchanging messages over Twitter with Guccifer 2.0, a hacker whom the U.S. believes to be a Russian agent.
Farage also met in March with Julian Assange, the founder of WikiLeaks, which published and aggressively marketed the hacked Clinton emails.
It's this network of contacts and connections that has piqued the FBI's interest, in the Guardian's account.
"One of the things the intelligence investigators have been looking at is points of contact and persons involved," one source told the paper. "If you triangulate Russia, WikiLeaks, Assange and Trump associates the person who comes up with the most hits is Nigel Farage. He's right in the middle of these relationships. He turns up over and over again. There's a lot of attention being paid to him."
Russia reportedly funds right-wing nationalist movements throughout Europe, and aided Farage's Leave campaign through its propagandistic news outlets and armies of internet trolls. (The Kremlin's ostensible reason being to weaken the EU and NATO.)
"Nigel has never been to Russia, let alone worked with their authorities," Farage's spokesman told the Guardian Thursday. That spokesman refused to say whether Farage was aware of the FBI probe, or had hired a lawyer in connection to it.
Following Trump's victory last fall, Farage was one of the first foreign politicians to visit the new president-elect.
Ten days later, Trump asked the British government to make Farage its ambassador to the U.S., a request that Downing Street curtly declined.
But no slight from London or scrutiny from Washington can keep Farage down: On Thursday morning, the man who built a political career out of inviting white Britons to blame their troubles on nonwhite immigrants told Fox News that there's "nothing worse than somebody who blames absolutely everybody else for their own failings."