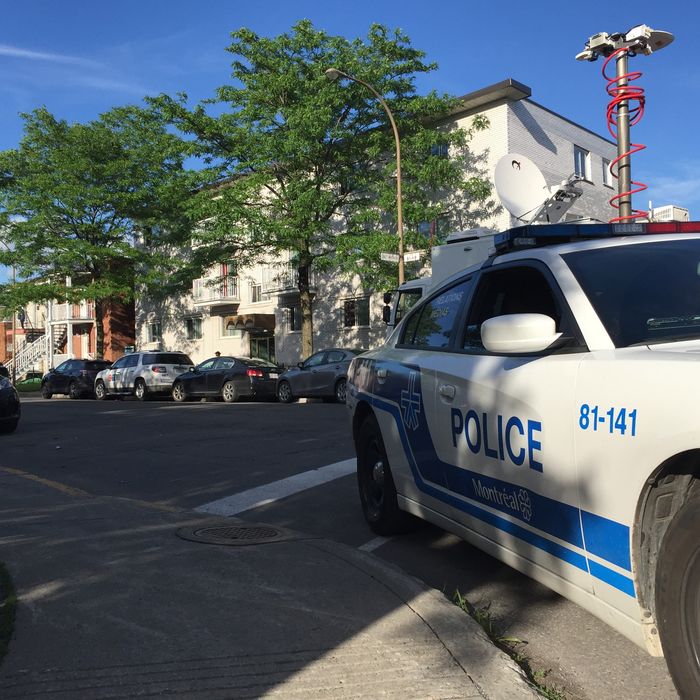 Police guard the apartment building where Amor Ftouhi lived in Montreal on June 21, 2017.
Photo: JULIEN BESSET/AFP/Getty Images
A Canadian man shouted "Allahu akbar" and stabbed a police officer with a 12-inch knife on Wednesday morning at an airport in Flint, Michigan, in an incident the FBI is investigating as an act of terrorism.
Amor Ftouhi, 50, has been charged with violence at an international airport. The victim, Lieutenant Jeff Neville, is in stable condition and is expected to survive.
According to the FBI affidavit, Ftouhi walked into Bishop International Airport carrying two bags, though he wasn't booked on a flight. He lingered for about 40 minutes, spending time in a restaurant and the restroom, where he dropped his bags. When he emerged around 9:45 a.m. he walked up to Neville, shouted the Arabic words for "God is great," plunged the knife into his neck, then shouted "Allah" several more times. He also said something like, "You have killed people in Syria, Iraq and Afghanistan, and we are all going to die.
Officials said four people helped subdue Ftouhi, and Neville fought back too. "Lt. Neville got him to stop stabbing him," said Chief Chris Miller of the Bishop Airport Safety Division. "Lieutenant Neville fought him right to the end, right until I was able to handcuff this person."
Once he was restrained, Ftouhi asked Neville why he didn't kill him.
Ftouhi is a dual citizen of Canada and Tunisia. He entered the country legally in Lake Champlain, New York, on June 16, and it appears he'd made the trip multiple times. Police have reportedly raided Ftouhi's apartment in Montreal, where he's lived with his wife and five children for years.
Ftouhi appeared in court late on Wednesday wearing an orange uniform and a face mask because he had spit on a U.S. marshal. The judge ordered that he be held without bail. He's facing up to 20 years in prison, and prosecutors may add additional charges.
Attorney General Jeff Sessions issued a statement about the incident on Wednesday evening. "I want to assure all our law enforcement across the nation, any attack on someone who serves and protects our citizens will be investigated and prosecuted to the fullest extent of the law," he said. "I am proud of the swift response from the F.B.I. and our federal prosecutors and their partnership with local police and the Canadian authorities. Our prayers are with the officer and his family for a full recovery."