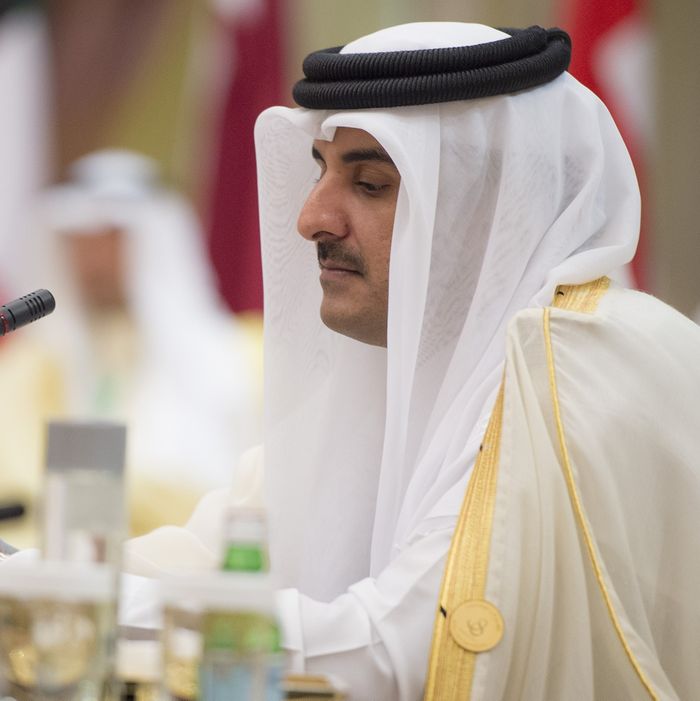 Emir of Qatar Sheikh Tamim bin Hamad Al Thani attends the U.S.-Gulf Summit in Riyadh, Saudi Arabia, May 21, 2017.
Photo: Anadolu Agency/Getty Images
In an unprecedented move, at least five countries — Saudi Arabia, the United Arab Emirates, Egypt, Bahrain, and Yemen — announced in separate but coordinated statements on Monday that they are cutting diplomatic and economic ties with the tiny nation of Qatar. This entails expelling diplomats, giving citizens 14 days to return to their home nation, and cutting off sea and air travel. Saudi Arabia will also shut down land crossings with its neighbor, which deprives Qatar of a key source of food and other imports.
Saudi Arabia said the move is a response to Qatar's "embrace of various terrorist and sectarian groups aimed at destabilizing the region" such as the Muslim Brotherhood, Al Qaeda, and ISIS. Bahrain pointed to Qatar's "media incitement, support for armed terrorist activities and funding linked to Iranian groups to carry out sabotage and spreading chaos in Bahrain."
There's long been tension between Qatar and its Arab neighbors over its ties to Iran and other Islamist groups, and the Doha-based news network Al Jazeera. Qatar has denied that it funds extremist groups, and its foreign ministry called the move to isolate the nation "unjustified" and "based on claims and allegations that have no basis in fact."
Tensions between Qatar and the other nations had been rising in recent days. On May 24, the state-run Qatar News Agency reported that the nation's ruler, Sheikh Tamim bin Hamad Al Thani, had called Iran an "Islamic power" and said Qatar's relationship with Israel is "good." Qatar quickly said the incendiary comments were fake and had been posted by hackers. They were still aired repeatedly by Saudi-owned satellite channels throughout the day, and media outlets in Saudi Arabia and the United Arab Emirates attacked Qatar.
The criticism intensified a few days later when Sheikh Tamim called Iranian president Hassan Rouhani to congratulate him on his reelection. This was a clear rejection of Saudi Arabia's efforts to get Qatar to fall in line against its top enemy.
That same weekend, President Trump had a very friendly trip to Saudi Arabia, where he called for an Arab coalition against extremism (and Iran). Trump's visit may have emboldened the Saudis to punish Qatar.
"There are going to be implications for people, for travelers, for business people. More than that, it brings the geopolitical risks into perspective," Tarek Fadlallah, the CEO of Nomura Asset Management Middle East, told Bloomberg. "Since this is an unprecedented move, it is very difficult to see how it plays out."
The situation is even more complicated for the U.S. because Qatar is home to a base for the U.S. military's Central Command, and about 10,000 American troops. It's unclear how the situation affects U.S. military operations.
Speaking in Sydney, U.S. Secretary of State Rex Tillerson said he didn't think the diplomatic crisis would hamper the war against ISIS.
"I think what we're witnessing is a growing list of disbelief in the countries for some time, and they've bubbled up to take action in order to have those differences addressed," Tillerson said. "We certainly would encourage the parties to sit down together and address these differences."
This post has been updated to include the addition of Yemen to the boycott.