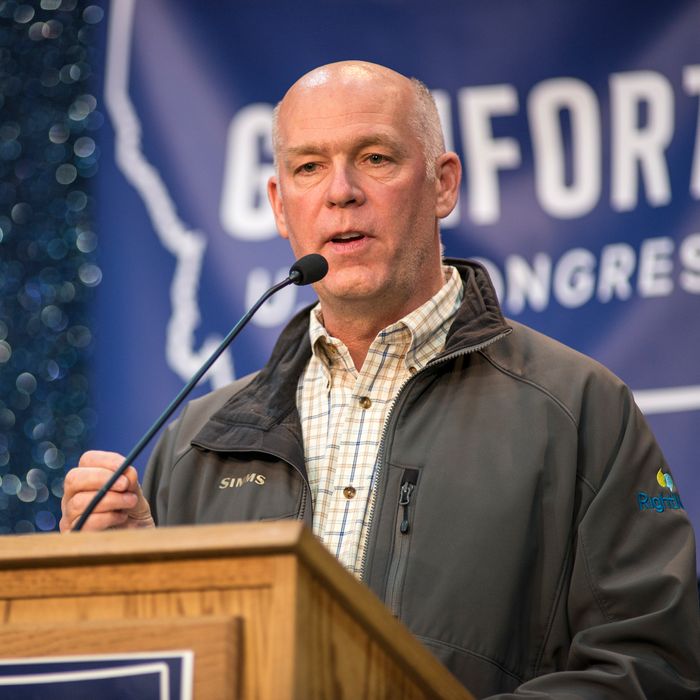 Upon further reflection, Gianforte has realized he isn't the victim of an aggressive liberal journalist.
Photo: William Campbell/Corbis via Getty Images
Last month, when Guardian reporter Ben Jacobs accused Montana congressional candidate Greg Gianforte of "body slamming" him in response to a question about the American Health Care Act, Gianforte spokesman Shane Scanlon released a statement painting the GOP candidate as the victim:
After asking Jacobs to lower the recorder, Jacobs declined. Greg then attempted to grab the phone that was pushed in his face. Jacobs grabbed Greg's wrist, and spun away from Greg, pushing them both to the ground. It's unfortunate that this aggressive behavior from a liberal journalist created this scene at our campaign volunteer BBQ.
Later, on the evening of May 24, the eve of the election, Jacobs posted audio of the incident, and Gianforte was not heard asking the reporter to back off. Then Fox News journalists offered an eyewitness account that was even worse than what Jacobs described. Reporter Alicia Acuna said "Gianforte grabbed Jacobs by the neck with both hands and slammed him into the ground behind him," then continued punching Jacobs.

Gianforte was charged with misdemeanor assault overnight, and the next day he ignored calls for an apology from national politicians and the press. He waited until he won the election, then expressed his remorse at his victory party. "Last night I made a mistake and I took an action I can't take back and I am not proud of what happened," Gianforte told the crowd. "I should not have responded the way I did and for that I am sorry."
On Wednesday, the tech millionaire, who's expected to be sworn in later this month, issued a full apology to Jacobs, and announced that he's agreed to donate $50,000 to the Committee to Protect Journalists to settle any potential civil claims.
"My physical response to your legitimate question was unprofessional, unacceptable, and unlawful," Gianforte wrote. "As both a candidate for office and a public official, I should be held to a high standard in my interactions with the press and the public. My treatment of you did not meet that standard."
Gianforte went on to discuss the importance of the press, and said he's making the donation "in the hope that perhaps some good can come of these events." He added, "I made a mistake and humbly ask for your forgiveness."
Gianforte is still facing criminal charges, and could be fined up to $500 or jailed for six months (which wouldn't necessarily prevent him from serving in Congress).
"I have accepted Mr. Gianforte's apology and his willingness to take responsibility for his actions and statements," Jacobs responded. "I hope the constructive resolution of this incident reinforces for all the importance of respecting the freedom of the press and the first amendment and encourages more civil and thoughtful discourse in our country."

Jacobs asked that the $7,500 raised in an online campaign to replace his broken glasses be donated to the Committee to Protect Journalists as well.
Gianforte has not explained why his spokesman initially released a false statement about the altercation, or answered Jacobs's question about the Congressional Budget Office's score of the GOP health bill.