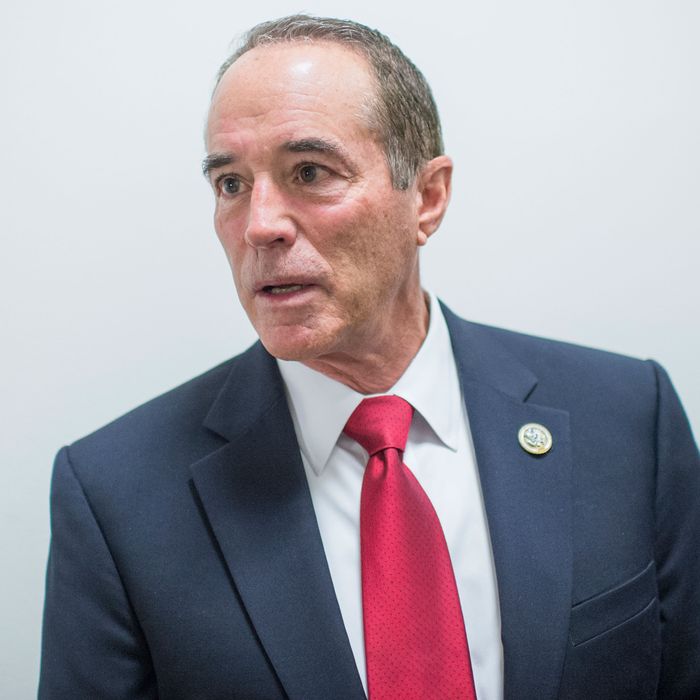 Chris Collins.
Photo: Tom Williams/CQ-Roll Call,Inc.
It's been a good few months for brazenly unethical politicians. President Trump has spent his first months in the White House channeling public funds into his personal properties — and putting hilariously unqualified friends and family members into top government positions — with impunity. The administration's Health secretary won confirmation despite evidence that he may have engaged in insider trading while in Congress, and lied during his appearance before the Senate. And an Oklahoma attorney general who allowed a natural-gas company to literally dictate his office's position on new environmental regulations is now the head of the EPA.
Still, even in Trump's America, (ostensible) acts of soft corruption don't always pay. As Politico reports:
The stock value of the Australian biotech firm Rep. Chris Collins championed to fellow lawmakers plummeted on Tuesday, costing the New York Republican $17 million as investigators continue probing his relationship with the firm.




Innate Immunotherapeutic shares dropped more than 90 percent on Tuesday to 5 cents when markets closed in Australia. The tumultuous fall of the company's stock followed an announcement that the firm's star pharmaceutical drug for multiple sclerosis failed to pass clinical trials.
Collins is a member of the House's subcommittee on health care and Innate's biggest shareholder. The congressman reportedly encouraged a number of his fellow Republican lawmakers to invest in the company, and secured them access to discounted shares (this was the point that Tom Price misled the Senate about during his confirmation hearings). Then, Collins helped craft legislation that expedited the FDA's approval process — a reform that directly benefited Innate, which was working to get its wares onto the U.S. market.
Those activities have now earned Collins the scrutiny of the Office of Government Ethics (which is investigating him on suspicions of insider trading); a $17 million paper loss; and, presumably, the irritation of several of his (suddenly less wealthy) colleagues.
On Tuesday, Collins said that he was disappointed in the news but "hopeful that someday we can find a treatment for this the terrible disease of secondary progressive multiple sclerosis."
The lawmaker added, "for those that invested in Innate including me, we all were sophisticated investors who were aware of the inherent risk."
Financially speaking, Collins will be just fine — the congressman is worth upwards of $40 million, while his actual losses are reportedly closer to $5 million, the amount he originally invested in the company 15 years ago.