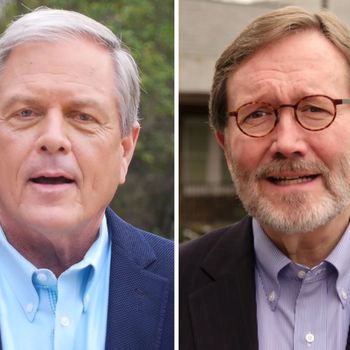 With all the attention being paid to the June 20 special election in Georgia, Republican Ralph Norman and Democrat Archie Parnell have toiled in the relative obscurity of another special election on the same day and one state over.
Photo: Ralph Norman for Congress; Archie Parnell for Congress
On June 20, a Democratic and Republican candidate will square off in a Deep South state in a special U.S. House election produced by the ascension to the Trump cabinet of an incumbent who won his previous race by over 20 points.
Yes, the insanely expensive and intensely watched Handel-Ossoff race in the Sixth District of Georgia fits that description. But so, too, does the special election in the Fifth District of South Carolina — a mostly rural and suburban district in the northern part of the state — which has received little national money or attention.
Unlike the "jungle primary" in the Georgia district, the Palmetto State special election to replace Office of Management and Budget Director Mick Mulvaney proceeded through party primaries — and for Republicans, a runoff. Former congressional staffer and Goldman Sachs executive Archie Parnell easily won the Democratic nomination (defeating online favorite and perhaps future star Alexis Frank). The large GOP field produced a runoff between two state legislators, hard-core conservative Ralph Norman and the less abrasively ideological Tommy Pope (also well known as a former prosecutor). Norman narrowly won, and quickly earned partywide support, although Parnell has labeled him an extremist.
So why is this race not widely considered a lively prospect for a Democratic upset, unlike GA-06 and other 2017 special elections? Well, for one thing, Mulvaney's big 2016 margin in the district was actually matched by Donald Trump's, who did better in the Fifth than did Mitt Romney four years earlier. That is the reverse situation of the one in GA-06, where Trump nearly managed to lose to Hillary Clinton despite the district's long-standing Republican tradition. Not coincidentally, the South Carolina district also has a much lower percentage of white voters with college educations (21 percent as opposed to 56 percent in GA-06), and a correspondingly higher white-working-class segment of the electorate, all making for a Trump-friendlier district at a time when the 45th president's popularity nationally is sagging. In addition, SC-05's Democratic electorate is a lot more African-American than GA-06's (or that of previous special-election electorates in Kansas and Montana). And so far African-American voters do not seem to have completely tuned back into electoral politics in the post-Obama era.
As a result of all these variables, the national parties (and the online activists who have done so much for Jon Ossoff) have not invested that much in SC-05, with the National Republican Congressional Committee spending just under $100,000 on Norman's behalf, and the Democratic Congressional Campaign Committee actually surprising some observers by handily exceeding that with $250,000 for Parnell. Both the candidates are personally wealthy, though Norman has reportedly spent $1.1 million of his own money compared to $500,000 for Parnell.
The only public poll in this race, in mid-May, showed Norman with a healthy 53/36 lead. The Parnell campaign released an internal poll at the end of May showing him within ten points of the Republican, who led 50/40. Perhaps the most important non-poll indicator is that turnout in the GOP primary was more than twice as large as that in the Democratic primary.  And Republican turnout held up quite well in the runoff as well.
But turnout in a June special election is a tricky thing, with a lot of voters being on vacation and still others thinking, as one local commentator put it, "that the election has already happened." To keep enthusiasm up, Norman is really tying himself to Trump, and the president has reciprocated with a robo-call for Norman. If somehow Parnell wins or (much more likely) keeps it close, Team Trump will not be able to disclaim Norman — if anyone outside South Carolina even notices in the wake of the giant waves of hype from the state next door.