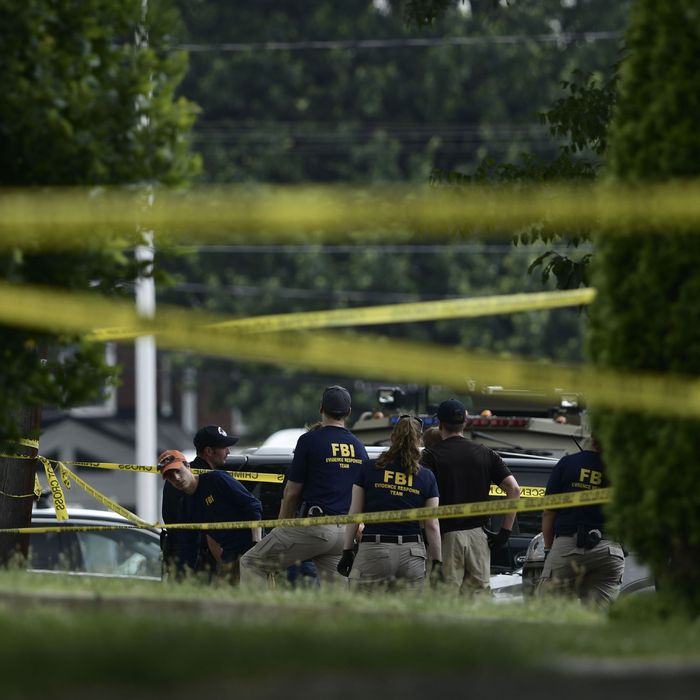 Members of the FBI inspect the crime scene after a shooting during a practice of the Republican congressional baseball team in Alexandria, Virginia.
Photo: Brendan Smialowski/AFP/Getty Images
The shots came in succession, blast after blast interrupting lawmakers' early-morning baseball practice. The gunfire spewed from behind a chain-link fence, where the suspect, James T. Hodgkinson of Illinois, had posted himself with an automatic weapon and a pistol. Hodgkinson took down Steve Scalise, the GOP Majority Whip, who had been fielding ground balls near second base. Capitol police officers — part of Scalise's security detail — rushed to his defense, exchanging fire with the suspect. When it was all over, Scalise and four others — including those two officers — were wounded. Hodgkinson was shot by police and badly injured. He died after being taken into custody.
A day later, federal law-enforcement officials are putting together Hodgkinson's backstory, trying to figure out whether he plotted the attack or seized an opportunity Wednesday morning at the baseball field in Virginia. Witnesses leaving the baseball practice early encountered Hodgkinson, who allegedly asked whether Democrats or Republicans were playing. Hodgkinson's antipathy toward Trump and the Republican Party is splattered across his social-media accounts. So is his support for Bernie Sanders, for whose campaign he volunteered last year. Originally from Illinois, Hodgkinson had come to the area in recent months and was living out of a van in the D.C. suburbs and showering at the local Alexandria YMCA. The day before the shooting, Hodgkinson allegedly called his wife to tell her he missed her and their dogs and was coming home, his brother claimed.

Three of Hodgkinson's five victims remain hospitalized, including Scalise, who is in critical condition after being shot in the hip; he needs to undergo another round of surgery. President Donald Trump and his wife, Melania, visited Scalise and his family in the hospital last night.
Matt Mika, a lobbyist and former Hill staffer, also remains in critical condition. One of the Capitol officers is also still in the hospital. Zack Barth, a legislative aide to Texas representative Roger Williams, who was wounded in the attack, is out of the hospital and told CBS This Morning that he was in right field when he saw the shooter "train his gun on me." He was hit in the leg, he said, but "my fight or flight kicked in. I had to make a run for it."
In the aftermath of the shooting, lawmakers spoke of unity and bipartisanship and "family." Reporters described members of Congress from both sides of the aisle as shaken, with some in tears. But it's a tentative spirit of bipartisanship, and some cracks are beginning to show. Representative Chris Collins called on Democrats to "tone down the rhetoric" on a radio show, but then later issued a statement that tasked everyone — "including myself" — to tone down the vitriol. At least one representative has suggested curtailing town halls, and some lawmakers are exploring using funds for more robust security for other members of Congress.
But in another show of bipartisanship, Thursday night's congressional baseball game will go ahead as scheduled, in Nationals Park. The more-than-century-old tradition — the game was first played in 1909 — now raises hundreds of thousands of dollars for D.C. organizations, though Congress will now donate to the Capitol Police Memorial Fund, in honor of the officers.