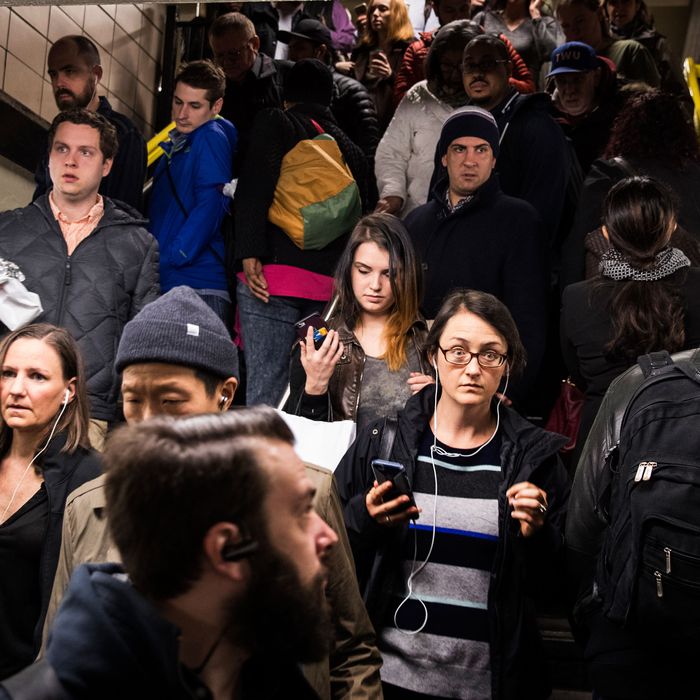 State of Emergency.
Photo: Drew Angerer/Getty Images
Governor Andrew Cuomo has tried to somewhat distance himself from the MTA, the state-run agency under his control, as crumbling infrastructure, outmoded technology, overcrowding, and other service disruptions have crippled the New York City subway and regional transit system. But on Thursday, two days after an A train derailed near 125th Street and injured more than 30, Cuomo has come clean about his authority over the MTA and is declaring the transit agency in a "state of emergency."
Cuomo said his executive order will help expedite a review of the MTA's needs and the procurement process. He added that he would assign an extra $1 billion to the MTA capital plan to tackle these much-needed infrastructure upgrades, and he instructed newly appointed MTA chairman Joe Lhota to assess the capital plan within 60 days. Lhota, who is returning for his second stint helming the transit agency, is also tasked with drawing up an agency reorganization plan within 30 days.
"The current state of the decline [of the MTA] is wholly unacceptable," the governor said, adding that it's going to be easier to do business with the MTA from now on.
It's unclear how Cuomo's move will change things in the short-term, as years of underinvestment and deferred maintenance — which Cuomo cited as some reasons for the subway system's decline — will still take time to adequately repair and upgrade. But, on the bright side, all that time spent angrily tweeting at the governor while stuck on the subway might have paid off after all.