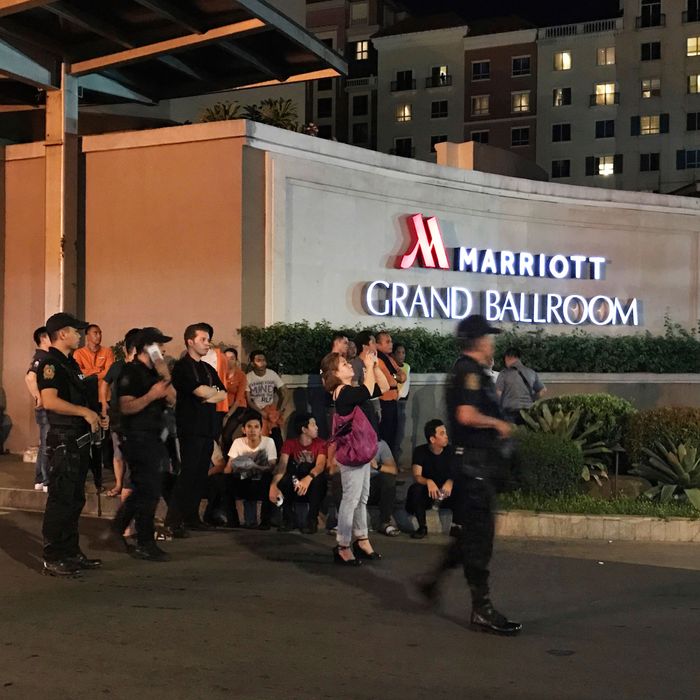 Armed security officers and onlookers gather outside a hotel at the Resorts World Manila complex early Friday.
Photo: Bullit Marquez/AP
Reports of gunfire and explosions sent people fleeing from a resort and casino in Manila in the early morning hours on Friday. Terrorism was suspected in the initial aftermath, and a Filipino member of the Islamic State claimed responsibility on social media, according to SITE Intelligence, which monitors extremist groups. President Trump, ahead of the announcement that the U.S. would leave the Paris climate agreement, spoke of the "terrorist attack in Manila." "It is really very sad as to what is going on throughout the world with terror," he said.
But the Philippines police chief Ronald dela Rosa shot down a terror motive, saying evidence pointed to robbery. According to him, the armed suspect entered one of the gambling rooms. He tried to set a game table on fire, and fired at a stockroom full of gambling chips, and then he allegedly tried to stuff his backpack with the loot. That gunman is still at large.
Early reports suggest about 25 people were injured, including some who tried to jump from the resort in the chaos. Trump has not walked back his false statement, though it wouldn't be the first time he made assumptions about an attack before getting confirmation from authorities. At the same time, the Philippines government is currently battling an ISIS-linked rebel group in the south, a bloody battle that has left dozens dead and displaced thousands.