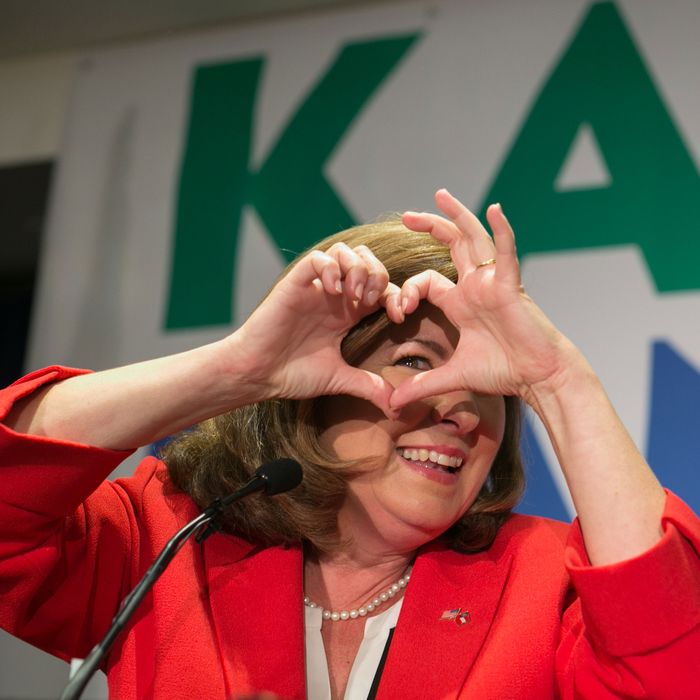 Karen Handel loves the GOP voters and the national GOP money that saved her bacon in GA-06.
Photo: Jessica McGowan/Getty Images
Everyone predicted the special congressional runoff in the Sixth District of Georgia would be a barn burner, and it was. In the end, a much-improved early-voting performance and the district's basic pro-GOP complexion enabled Republican Karen Handel to prevail in a race that Democrats hoped Jon Ossoff could win after his impressive first-round performance in April.
This has famously been the most expensive U.S. House election ever, with total spending — roughly even for Republicans and Democrats when outside groups are taken into account — going over $50 million. It is hard to imagine that either "team" left a stone unturned, an ad un-run, or a potential voter uncontacted. With both campaigns operating at saturation level, what seems to have happened is that lagging GOP turnout in the first round caught up with the aroused Democratic and Democrat-leaning independent turnout. That made this a more "typical" election (total turnout exceeded midterm levels), and Republicans usually win Georgia's Sixth. Ossoff did not convert enough GOP voters to change that dynamic, which means Handel's strategy — keeping a prudent distance from Donald Trump and reminding GOP voters in endlessly rerun ads that the mild-mannered centrist candidate was linked to "extremist liberals" ranging from anarchist street protesters to Hollywood to Nancy Pelosi — was effective.
Mechanically, Handel kept Ossoff's in-person early voting lead small and then enjoyed her expected advantage in election day voting (helped, perhaps, by terrible weather today that seemed to hit Democratic parts of the district especially hard). An anticipated Ossoff edge in mail-in ballots – the last to be counted–just wasn't enough. Based on preliminary results, Ossoff barely managed to match his share of the first-round vote – 48 percent – even as Handel improved from 20 percent to well over 50. Clearly, the GOP managed to come together for the final vote, even though some of Handel's first-round rivals had attacked her without inhibitions.
The spin over the meaning of this election could become as intense as the campaign itself. Donald Trump immediately boasted about Handel's win — and Fox News's reporting about it — on Twitter:
The efforts of Trump's vice-president, his HHS secretary (who represented this district until January), and his Agriculture secretary (who was governor of Georgia for eight years) could have made a small difference. The national GOP groups, including the official Republican Party committee and Paul Ryan's PAC, that financed and executed most of Handel's campaign will get a lot of credit as well.
But without much question, in this district (unlike some demographically different areas where he might actually be of help to his party) the president represented a millstone Handel managed to overcome by doing better there than Trump did last November. Now, as before, Donald Trump posted the worst numbers in Georgia's Sixth of any Republican running there since the district was formed in 1992.
As for Democrats, the main culprit tonight was probably the outsize expectations they developed in what was after all a Republican district that Tom Price won seven straight times with a minimum of 61 percent of the vote. There is a reason Ossoff's strategy was to win in the first round before local and national Republicans got their act together.
There may be some intra-party recriminations among Democrats that Ossoff was too "centrist," or counted too much on swing-voter persuasion rather than mobilizing first-time voters in the district's small but growing minority communities. And the loss (along with another, more surprising near miss in South Carolina tonight) means Democrats will enter the 2018 election cycle without that satisfying mark in the W column to encourage donors and help recruit candidates.
Democrats searching for a silver lining in the Georgia race don't have to look too far. This is the third consecutive special election (the fourth if you count South Carolina) in a historically Republican district where the Democratic percentage of the vote jumped sharply. Democrats will surely retake the House if the swing in their direction is similarly strong in 2018. In retrospect, ironically, tonight's results may inspire new respect for Hillary Clinton's performance — when she came within a point of Donald Trump in this district last November — and provide some new data points for doing well in GOP-leaning districts that resemble GA-06 with its highly educated population.
As a longtime Georgian, I would add that in my experience Georgia Democrats don't much show up to vote in special elections, or runoffs, much less special-election runoffs. That so many did in this election was a minor miracle.
Republicans will rightly celebrate this win tonight, but there remain clouds on the midterm horizon as dark as those that poured rain on parts of GA-06 today. And Democrats must once again satisfy themselves with a moral victory until the real thing arrives, perhaps next year.