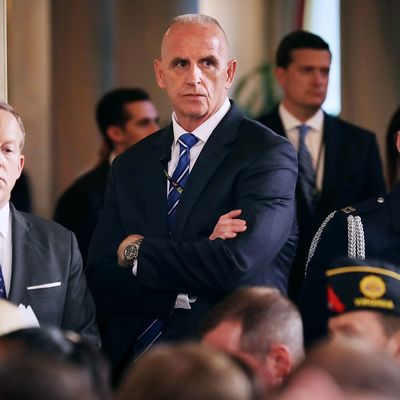 Keith Schiller.
Photo: Chip Somodevilla/Getty Images
President Trump's longtime bodyguard Keith Schiller, who's now serving as a White House aide, has found himself on the witness list in the House Intelligence Committee's investigation of Russia's interference in last year's election, ABC News reports.
The former NYPD detective's current title is White House director of Oval Office operations and he's largely flown under the radar since Trump entered the White House. The one exception was the role he played in the firing of former FBI Director James Comey. Following Trump's decision to let Comey go, Schiller hand-delivered a letter to FBI headquarters making the president's wishes known.
It's unclear why the House has taken an interest in Schiller, but unsurprising given how close he is to Trump. Prior to entering the White House, Schiller served as the head of security for the Trump Organization for nearly two decades. In May, an administration source told CNN that he's the "most underestimated person on Trump's team" and a more trusted Trump ally than many of the political veterans in his White House. If anyone knows Trump's secrets, sounds like Schiller is the guy.