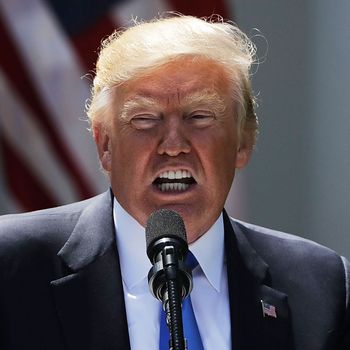 The man with the nuclear codes.
Photo: Chip Somodevilla/Getty Images
Let's say Donald Trump has nothing to hide: This "Russia thing with Russia and Trump is a made up story." It's a witch hunt, an excuse drummed up by sore-loser Democrats and their allies in the fake news media.
Did the Trump campaign employ some sketchy characters with unsavory ties to eastern European oligarchs? Sure. But that's no crime. Was the mogul's business career checkered by unscrupulous dealings that may have involved Russian banks? Maybe — but if merely unscrupulous business practices were against the law, most major corporations would be run out of prison yards.
The president's tax returns may contain political liabilities, but not legal ones. Jared Kushner just wanted to secretly communicate with Russia for the sake of resolving the Syrian civil war. Jeff Sessions is an old man who finds Russian officials very forgettable.
Would all that make the president's behavior in this report from Politico any less concerning?
Trump, for months, has bristled almost daily about the ongoing probes. He has sometimes, without prompting, injected. "I'm not under investigation" into conversations with associates and allies. He has watched hours of TV coverage every day — sometimes even storing morning news shows on his TiVo to watch in the evening — and complained nonstop… Just as he has done publicly on Twitter, Trump has told friends and associates that the investigation is a "witch hunt" and that others are out to get him. "It's basically all he talks about on the phone," said one adviser who has spoken with Trump and his top aides.
Trump's actions in the months before James Comey's firing — his attempts to interfere in the FBI's investigation of Michael Flynn, and to commandeer America's senior intelligence officials as his own political operatives — were impossible to explain without assuming the president's guilt or his idiocy.
But Republicans could work with idiocy — after rebranding it as "naïveté," anyway.
"He's new at government, so therefore I think he's learning as he goes," House Speaker Paul Ryan said, in attempt to explain away the president's apparent attempts to obstruct justice.
Republican congressman David Schweikert struck a similar note on Thursday, telling NPR, "I'm at the point where we also have to be real careful from the standpoint that we have a President that's not from the political class … The learning of the disciplined use of language and what certain words mean in our context — if you're not from this world you may not have developed that discipline."
This was a halfway plausible (and slightly less than halfway innocuous) explanation for some of Trump's conduct towards Comey. Of course, it still begged the question: Why should a man who refused to learn the basic protocols and responsibilities of the presidency— even as he spent a year and a half begging Americans to give him that office — deserve to remain in power?
But Trump's behavior in the wake of Comey's ouster makes a mockery of the naïveté plea. By now, he has had ample opportunity to learn that federal law enforcement is supposed to operate independent of the president. And this epiphany did not change his behavior in any way.
Since firing Comey, Trump has confessed that he dispatched the FBI director so as to influence the Russia investigation on national television and in a private meeting with Kremlin officials. He has tried to intimidate the FBI director into silence; floated the idea of firing special prosecutor Robert Mueller; berated Jeff Sessions for honoring his legal obligation to recuse himself from the Russia probe; and suggested his own deputy attorney general has joined a conspiracy against him, as part of a broader decision to go "on the attack."
As Politico reports:
Trump has been told repeatedly not to post such missives on Twitter but has decided he is in for a political fight, according to one outside adviser briefed on the strategy. Advisers have told him to use his Twitter to boost his political message or attack Democrats instead of talking about the legal case. But Trump doesn't trust others to share his message, this person said, because they don't want to share it the way he does…The tweets also are seen by some in the president's circle as the beginning of a case against the officials investigating him.
Again: Let's say Trump knows he is guilty of nothing, and that the special prosecutor's investigation will inevitably exonerate him.
Wouldn't that make this behavior just as — if not more — concerning?
Either the president is acting erratically, due to a rational fear of what Mueller's probe may reveal, or else he is suffering from an obsessive disorder that renders him helplessly self-destructive. Trump has stomped all over the naïveté defense. All that remains is the insanity plea. To plausibly deny that the president is a criminal, Republicans must stipulate that he's out of his mind.
Which is to say: There is no credible explanation for Trump's conduct that is compatible with the idea that he is fit for high office.