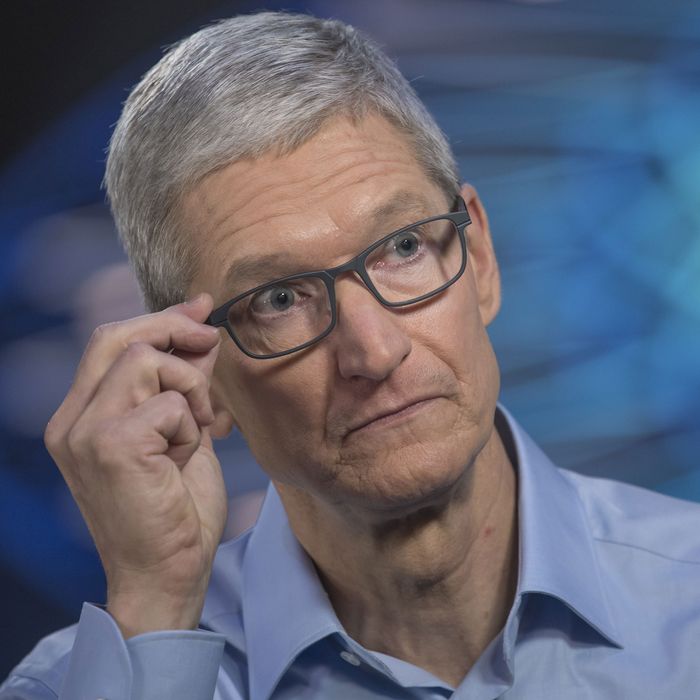 "I'm not mad you leaked, just disappointed. No, wait — I'm actually mad."
Photo: David Paul Morris/Bloomberg via Getty Images
Apple leaks are one of the sustaining features of any tech outlet. While a few die-hards may be interested in what the new Samsung Galaxy will look like, or if the LG G6 will have vertical or horizontal dual-lens cameras, Apple products — particularly the iPhone — are the subject of intense scrutiny, and thus a steady drumbeat of leaks.
The Outline's William Turton published a leak today about leaks, obtaining a recording of a presentation given to Apple employees in Cupertino about the lengths the company is willing to go to try to keep its products secret from both the press and competitors. The presentation, "Stopping Leakers — Keeping Confidential at Apple," was an hour-long look at the damage leaks do to Apple, how Apple catches leakers, and the steps it's taking to tighten up its security even further.
During a short video presentation, Apple employees describe the pain of seeing their work getting leaked to the wider world:
"When I see a leak in the press, for me, it's gut-wrenching," an Apple employee says in the first video. "It really makes me sick to my stomach." Another employee adds, "When you leak this information, you're letting all of us down. It's our company, the reputation of the company, the hard work of the different teams that work on this stuff."
To stop that pain, the video explains that Apple has built a team of former law-enforcement officers, NSA agents, and retired military service members. (Director of global security David Rice, who headed up the briefing, is a former NSA and Navy analyst.)
For years, leaks mainly happened through Apple's supply chain, based in a series of factories and fabrication plants, mainly in China. For Apple, the nightmare is losing housing units. Not only do they show the form factor the next Apple product will take, but it's easy for competitors to intuit how exactly Apple will design the internal electronics from there. In the Outline's recording, Rice says: "If you have a housing, you pretty much know what we're going to ship."
However, Apple's security team claims it has cracked down on leaks from within the supply chain so successfully, it's Cupertino — not China — where most leaks are emerging currently. "Last year was the first year that Apple [campuses] leaked more than the supply chain," says Rice in the recording obtained by the Outline. "More stuff came out of Apple [campuses] last year than all of our supply chain combined."
And Apple plays the long game when it thinks its U.S.-based employees are leaking. The presentation has the story of two major leakers, one who worked for the iTunes division and one who worked at Apple's online store. During the presentation, it's revealed that Apple will spend years tracking down who exactly leaked information about products.
It's even suggested that employees may inadvertently leak to close friends and family. "I go through a lot of trouble not to talk about what I work on with my wife, with my teenage kids … with my friends, my family," says one employee in a video portion of the briefing. "I'm not telling you that you give up all relationships, but that you have a built-in relationship monitor that you're constantly using."
Apple isn't alone in its culture of high secrecy. Google has a program dedicated to sniffing out spies within its company (and any visit to a Google campus outside of public areas will have numerous signs up warning everyone to be on the lookout for anyone snapping photos or wandering somewhere they shouldn't be). Facebook, Snapchat, Amazon, and Microsoft all take similar security measures. The main difference is that while there may be financial reward in leaks out of those other companies, Apple is really the only company with enough superfans who want to know more about the new iPhone before Apple is ready to release it.
And that has an effect on sales. As Turton points out, Apple CEO Tim Cook partly blamed a "pause" in iPhone 7 sales due to continued leaks and rumors about the upcoming iPhone 8, as people who may have been ready to take the plunge instead decided to wait to see just what Apple's latest phone will be. And despite Apple's crackdown in the supply chain, analysts like KGI Securities' Ming-Chi Kuo still seem to be able to find sources both within the supply chain and the company itself, in order to predict what's coming next to Apple — and Ming-Chi Kuo's very rarely wrong.
Still, the security team seems to think it's having some effect. Turton relates this bit from the presentation:
Later, during the employee Q&A, Rice gleefully recounts a blog post written by longtime Apple watcher John Gruber, in which Gruber criticized Apple scoop machine Mark Gurman, who now works at Bloomberg, for not having juicy details on Apple's new HomePod speaker before it was released. "Even [Gruber] was like 'Yeah, you got nothing.' So he was actually throwing some shade out, which, like, 'all riiight,'" Rice says, to the laughter of employees.
Of course, the most infamous Apple leak ever wasn't really a leak at all, but simply an Apple engineer leaving an iPhone 4 at a bar in Redwood City. Gizmodo eventually paid for the phone and published an extensive rundown of everything they could figure out about the device, months before Steve Jobs would reveal it onstage. You can hire ex-NSA agents, lock down your supply chain, have employees keep schtum around their friends and family about what they're working on — but you can't stop someone from forgetting their phone at the bar.
Or, apparently, from leaking a presentation about leaking.