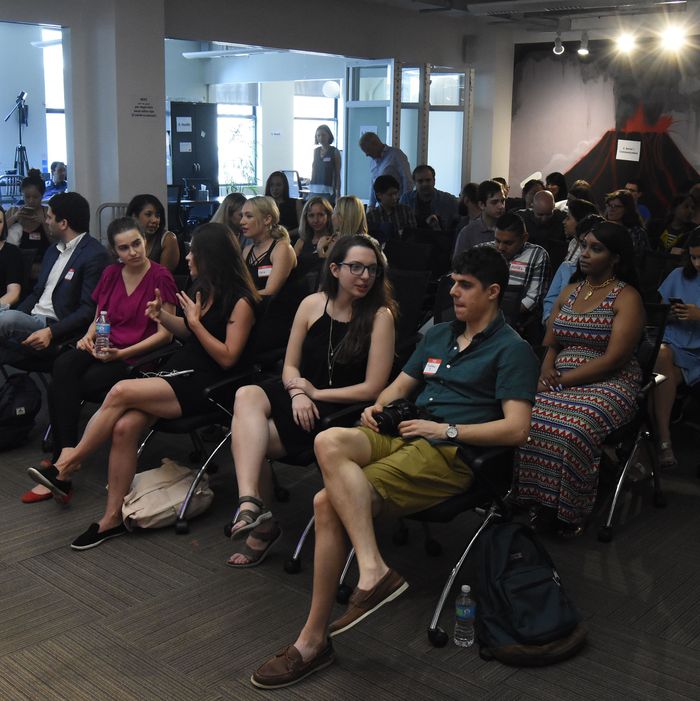 "The future of sextech is female," Bryony Cole enthusiastically declared the morning of the first-ever sextech hackathon in the US. This was good to hear, because the turnout looked to be at least 50 percent male. Either way, no one was going to let it get them down. There were virtual reality sex simulators to be designed and emoji vibrators to discuss.
While the term "sextech" tends to evoke fantasies (or nightmares) of robot brothels and hologram gangbangs, it can cover everything from the Birchbox-esque Unbound, a curated sex toy subscription service, to Bwom , an app that reminds women struggling with incontinence or postpartum pelvic weakness to do their kegels. Cole, a "sex futurist" who has been studying sextech for more than a year and hosts the Future of Sex podcast, sees sextech as any use of technology to enhance sexuality. She met Andriy Yaroshenko, the main organizer behind the hackathon, at a "Science of Squirting" event in Bushwick.
"There's so much intricacy around intimacy and sexuality that we haven't worked out, and because we're not being vocal and normalizing sex all these things start to breed even crazier stuff," Cole told me. "And so people think of sextech and they think it's this terrible thing where everyone's going to fuck a robot. And actually there's so many more amazing things happening."
Yaroshenko, a self-described sex evangelist and sextech entrepreneur, is also the founder of Fantasy, a dating-by-fantasy-matching app. He sported a large ring shaped like a clitoris for the day and was happy to step aside and supervise from the sidelines while the women took control.
Rather than the traditional hackathon pitch format, the day started with lightning talks by some of the mentors and judges, who would assist the teams and judge their final pitches, to introduce and inspire ideas. Speakers included Mal Harrison, founder and director of the Center for Erotic Intelligence; Kris Jandler, co-founder and CMO of Emojibator; and Irene Ryabaya, co-founder of Monarq, a female-focused incubator. More than anything, they explained, they wanted to encourage a healthy dialogue about sexuality and enhance the conversation surrounding female pleasure and sexuality — in the industry, in bars, or in bedrooms. The respectful discussion guidelines, such as "one mic, one voice," "use 'I' statements," "avoid making generalizations," and "correct gently, but do correct," and very strong "no pornography or entertainment apps" policy were meant to help with this.
People have two basic negotiations around sex: "We're either bragging about it or we're hiding it," said Harrison, who is best known for her research on the internal clitoris. "I have a client now who has three kids and she's 58 and she's never had an orgasm in her life. I would consider that modern-day terrorism." (This would make Harrison a counter-terrorism agent.) "We need to rethink and revamp what sex is, and having more women in the mix — having more pussy is never a bad thing, in my opinion," she continued, to a "whoo!" from the audience.
Most participants arrived solo, and the morning started with a "silent friend dating" icebreaker, in which participants filled out a questionnaire ("name a book or movie about sex you've recently enjoyed") and then taped it on their backs and mingled while nonverbally communicating their feelings about other people's answers. The activity was designed to help attendees break into teams based on predetermined subject areas: pleasure, social/communication, education/LGBTQ/sexual assault, and health/menstruation. The main question the organizers asked themselves was, "How do we create this space for innovation but also encourage women to be involved," said Cole. "And that's why you'll see the hackathon isn't that formula of pitch, pitch, pitch. We're doing activities so people get to know each other and feel comfortable, and you can go into any category you want and it's much more collaborative."
Eventually the milling about became purposeful, and teams began to form. One group had a vigorous discussion about toxic masculinity while another slowly covered a table in Post-It notes with phrases like "guidance," "data analysis," and "exposure growing up in public spaces."
Participants were given six hours to work, and by 4:30, things had gotten much more serious. Some people wandered off, whether because they'd finished, wanted food, or just couldn't find teams that suited their interests. One group apparently left to purchase sex toys. Everyone was far too wrapped up in whiteboarding to give an elevator pitch, and there was a 3D model of a clitoris on a computer screen just around the corner from a list of potential kinks for a drop-down menu.
Seven teams made it to the final presentation stage. After three, Cole declared that all presentations must be done by the female team members. They'd been narrowed down into just two categories, pleasure and education.
The education options included the toxic masculinity app (the team may have bitten off more than it could chew); a virtual reality education environment that aims to create a safe space for people to learn and explore, either with an AI or another person's avatar (under trained supervision); and Spinucation, made by the Post-It note team, an AI-enabled spinner game inspired by spin-the-bottle to help parents and children have a safe and culturally relevant environment to talk about sex. "One main criteria we had was to not hide behind an avatar and have those conversations, but to do it in a non-cowardly way and really have a conversation," said Elena Habre, one of the team members.
The "pleasure" presentations were a bit sexier. Two apps aimed to help couples communicate, one via comparing kinks you'd like to discuss and the other by asking questions and sending notification suggestions to your partner based on your responses. Another team jumped on the sexy subscription box train, though they claimed to be different from Unbound due to their lack of inventory and more involved, customizable scenarios. Taking the customizable scenario one step further, an interactive erotic storytelling app that can be linked to a vibrator treaded the "no pornography" line, but at least they say they plan to pay their writers.
Many of the pitched apps intended to profit by selling their user data. Just in case advertisers didn't know quite enough about you yet, now they'll also know that you really wish your partner would touch your nipples once in a while.
Spinucation was declared the winner, with praise from the judges for tackling "something everyone has a problem with and no one has a solution to." They planned to continue developing their product, a task that should be made easier by the fact that they won a month of desk space at Galvanize and a professional logo design, though they're considering changing their name. The partner-communication app designed to push through the awkward silence surrounding sex conversations came in as the runner-up.
At the end of the day, Yaroshenko and the other mentors were pleased. They're already thinking about their next hackathon — which might be women-only.
And yes, the participant gift bag did contain a vibrator.