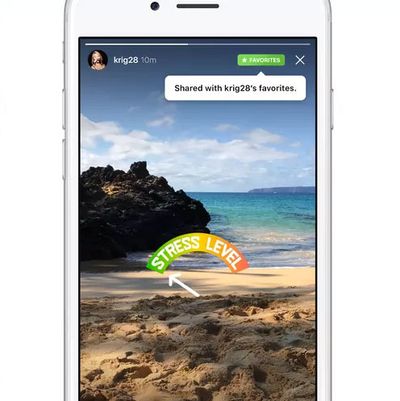 A picture of the soon-to-be murderous perp.
Your days of recounting the most disturbingly personal happenings of your day-to-day life in the caption of a shitty selfie on your Finsta account may be coming to an end.
The Finsta, for the unaware, is teen talk for Fake Insta(gram) — an unofficially official account used to post content that's, well … not exactly meant for 500 of your peripheral friends to see — and Instagram wants to kill it.
The company has begun the slow assassination of this beloved pastime through the introduction a new feature called favorites. The addition gives you new options to choose from when sharing an Instagram story or making a post: You can either publish it on your account like you normally would — where all of your followers and profile visitors can see it – or, you can share it solely to your 'favorites,' an exclusive list of friends and followers curated by you.
Whether you're posting the latest (totally candid) selfie on your story, or uploading a photo of your #crazy time with the girls last night, your favorites content will only appear in the feeds of those you've selected. Exclusive posts are mixed in with public ones on your home tab and the stories section. A green "favorites" badge — which appears in the top right hand corner – discreetly informs your chosen few that this blurry picture of cocktails isn't just another basic #ThirstyThursday post — it's special.
Nearly every aspect of the app has been altered to lend itself towards using the favorites feature, but the updates to the profile tab are by far the most noticeable: a new section dedicated to favorites-only posts — which is denoted by a star symbol — will join the fray. The option to click on the section is available to anyone who visits your profile, but only you and your list members will be able to actually see the posts that you've shared there. For all others, the section will appear to be empty.
There's no limit to the number of people you can add to your favorites, nor is there any way for people to ask to join your list, like you can with private profiles. Instead, prospective members will have to wait until you choose to add them (or don't).
Thankfully, it seems that Instagram has also finally caught on to the panic-inducing nightmare that is accidentally following or unfollowing someone on social media and having to live with the knowledge that the ex of your ex who you have never even met just received a notification from your account — because adding and removing people from your favorites list is now a notification-less affair. Your friends will only know they're in your favorites when they see one of your green badge-branded posts floating along their feed.
Instagram is not the first company to introduce a way for its users to share content to a smaller group of followers, but it may be the one of the few that have a shot at actually getting it right. (Unlike the horror that is Facebook's friend list feature.) Their decision to co-op the growing popularity of Finstagramming and reintroduce the concept as part of a fully integrated new feature could certainly lead to wider adoption. Although the jury is still out on whether or not anyone will want to tie their main accounts to Finsta-level content.