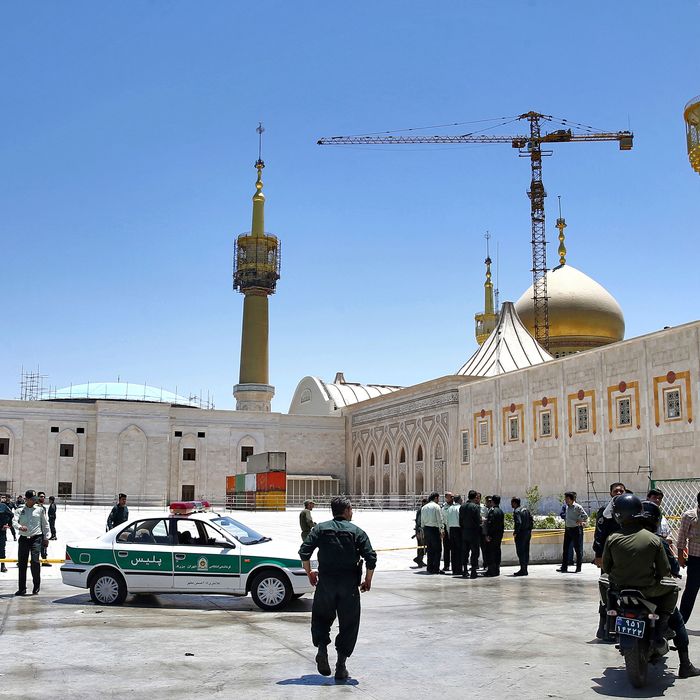 Police officers control the scene, around of shrine of late Iranian revolutionary founder Ayatollah Khomeini, after an assault by several attackers in Tehran, just outside Tehran, Iran.
Photo: Ebrahim Noroozi/AP
Armed militants, some apparently dressed as women and equipped with suicide vests, stormed the Parliament building in Tehran, Iran, Wednesday morning around 10:30 a.m. About a half-hour later, another group of attackers rushed the mausoleum of the Ayatollah Khomeini. The assailants went on a murderous spree, firing on people, holding hostages, and blowing themselves up with explosives. The twin terror attacks — rare in the tightly controlled Iran, with its elite security forces — left 12 people dead and more than 40 wounded. Iran's intelligence ministry said it had arrested another "team" plotting a third attack, says Reuters.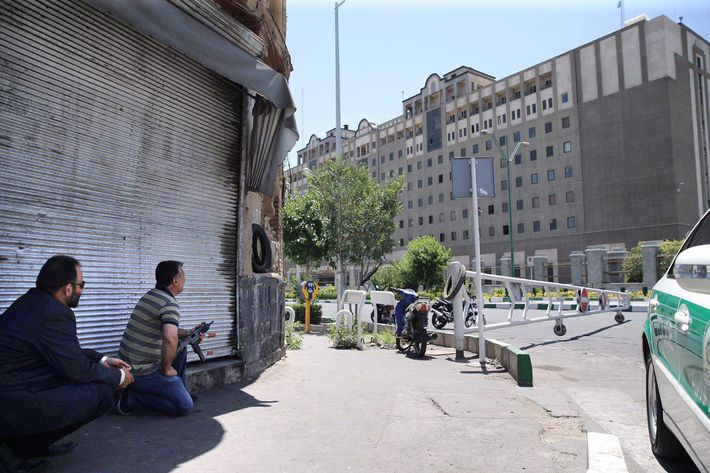 ISIS immediately claimed responsibility for the rampage, and released a graphic video that was allegedly filmed by one of the attackers. If confirmed, this attack would be the jihadist organization's first in Iran, according to The Guardian. The terrorist group adheres to a bastardized version of Sunni Islam, and it considers Shiite Muslims — Iran's majority religion — apostates.
Iran's revolutionary guard, however, accused Saudi Arabia of being behind the attack. "This terrorist attack happened only a week after the meeting between the U.S. president and the backward leaders who support terrorists," a statement from the revolutionary guard read, indicating Trump and Saudi Arabia. The statement added that "the fact that Islamic State has claimed responsibility proves that they were involved in the brutal attack," an insinuation that Saudi Arabia is tied to the Sunni extremist group.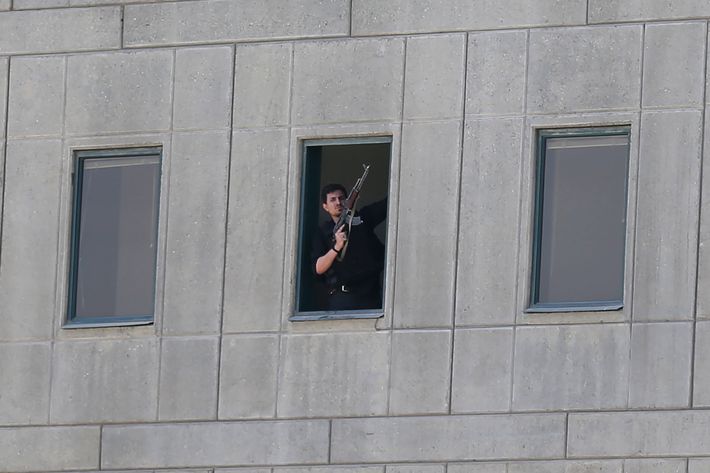 Iran's accusation comes at a particularly tense time in the region. Saudi Arabia and other Sunni-majority nations cut diplomatic ties with Qatar this week, over its alleged "embrace" of radical groups, including the Muslim Brotherhood and ISIS. Yet Qatar's recognition and willingness to work with Iran clearly factored into that decision to sever relations. President Trump, visiting the Saudi Arabian capital on his first foreign trip, made it clear that isolating Iran was a shared goal between the U.S. and its Sunni allies in the region.
The Saudi foreign minister denied that Saudi extremists were involved in the attack, but Wednesday's attack adds fuel — bolstered by Trump's pointed statements against Iran — to the volatile regional rivalry. As Reuters points out, it may also roil tensions within Iran between the more moderate forces — which claimed victory in the recent reelection of President Hassan Rouhani — and conservative hard-liners.