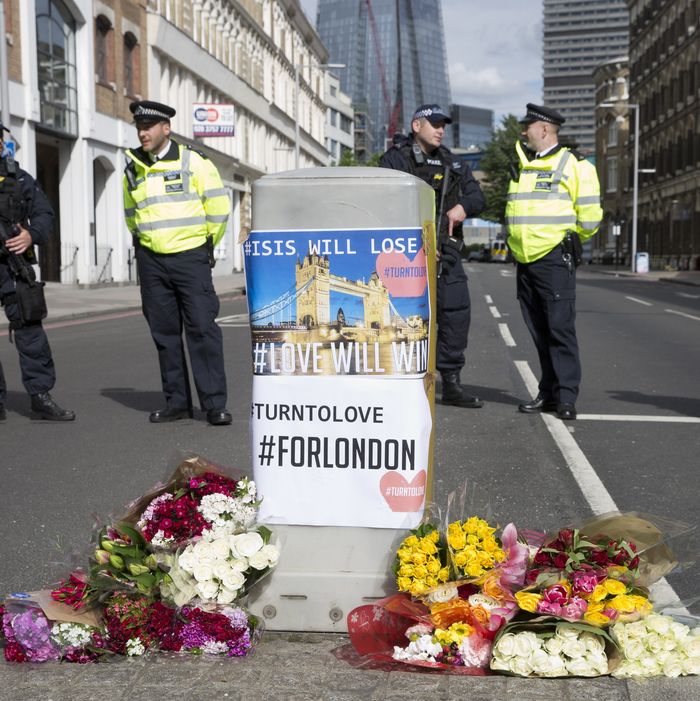 Police stand guard near floral tributes at the entrance of Southwark Street a day after the London terror attack.
Photo: Anadolu Agency/Getty Images
ISIS claimed in a statement from its Aamaq news agency on Sunday that "a detachment of Islamic State fighters" were responsible for the attack in London's Borough Market a day earlier that left seven people dead and dozens wounded, including 21 who remain in critical condition.
It's unclear if the terror group had any direct role in planning the attack, as it claims anyone they inspire as a member. Over the weekend, ISIS sent a message on one of its main propaganda channels calling on supporters to "kill civilians of the Crusaders, run over them by vehicles" during the month of Ramadan.
"They usually use these messages to simply inspire people to carry out attacks whenever the opportunity arises," Matt Olsen, the former director of the National Counterterrorism Center, told ABC News. "So, really, the real goal is to motivate as many people as possible in the hopes that somebody will carry out an attack just like this."
The three attackers, who plowed a van into pedestrians on London Bridge then stabbed bystanders, were fatally shot by police just eight minutes after the incident was first reported. Police said they will be identified "as soon as operationally possible."
Police conducted raids in Barking, east London, early on Sunday morning and made 12 arrests, including seven women and five men, ages 19 to 60. One man was released without being charged. Police said they are still searching four properties believed to be connected to the attackers.
British Prime Minister Theresa May said, "Things need to change," in remarks delivered outside 10 Downing Street on Sunday. "We cannot and must not pretend that things can continue as they are," she added. "There is — to be frank — far too much tolerance of extremism in our country."
Saturday's incident was the third terrorist attack in the U.K. in three months. In March, a man drove a car into pedestrians on Westminster Bridge, killing four people, then fatally stabbed a police officer. Twenty-two people died last month in a suicide bombing at an Ariana Grande concert in Manchester. Grande held a concert on Sunday to benefit the We Love Manchester Emergency Fund, which was expanded to recognize the new victims in London.
May said the three attacks were not coordinated, "but we believe we are experiencing a new trend in the threat we face as terrorism breeds terrorism." She said there is "far too much tolerance for extremism in our country," and called for a review of the nation's counterterrorism programs.
Britain's general election will be held on Thursday as scheduled, and supporters of the opposition Labour Party accused May of politicizing the attack. May has accused their leader, Jeremy Corbyn, of being too soft on anti-Western militants.
Corbyn responded by accusing May, who was home secretary for six years before becoming prime minister, of weakening national security through austerity. "You cannot protect the public on the cheap," Corbyn said. "The police and security services must get the resources they need, not 20,000 police cuts."
Corbyn also attacked President Trump for responding to the attack by misquoting and insulting the mayor of London. "At this time it is more important than ever that we stay united in our communities," Corbyn said. "It is the strength of our communities that gets us through these awful times as London mayor Sadiq Khan recognised but which the current occupant in the White House has neither the grace nor the sense to grasp."