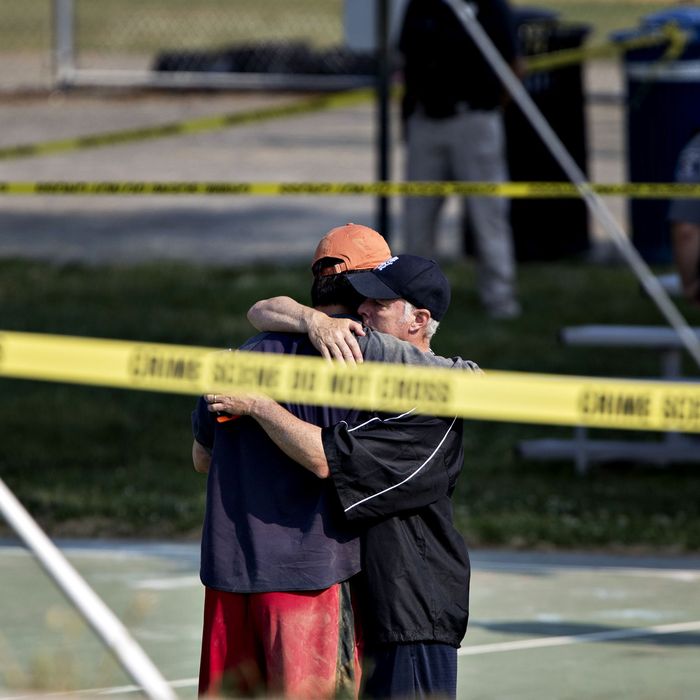 After the shooting.
Photo: Andrew Harrer/Bloomberg via Getty Images
In the wake of the horrifying mass shooting of five people at a Republican congressional baseball practice today, we will hear a lot of understandable but not necessarily meaningful talk about overcoming partisan differences. There will also be some opportunistic efforts to use the incident as a weapon to paint legitimate criticism of the president or his party in the lurid colors of this abominable act.
It will be helpful if the former impulses outweigh the latter, and we can only hope the president's entirely appropriate initial remarks on the shootings, and the gestures of unity in the Capitol, are signs of a more careful tone.
But what the moment really calls for is something more specific and meaningful: a mutual denunciation of political violence and the potential incitement of political violence by Democrats and Republicans, the right and the left. What happened in Alexandria this morning was not an exercise in "Trump-hatred" or progressive political protest, but an act that violates the most basic norms of a constitutional democracy governed by the rule of law. Left-of-center people — a group that includes myself — need to examine their consciences and their words to ensure that we in no way give even the slightest sense that violence against political opponents might ever be justified. We cannot leave the impression that we think the Alexandria shooter took legitimate grievances just a bit too far.
Instead of pointing fingers at the political factions or parties or ideologies to which the alleged shooter belonged, right-of-center people need to examine their own consciences and words, particularly given the temperature of their own discourse today on social media. A good starting point for conservatives would be renunciation, once and for all, of rationales for the Second Amendment that suggest the population needs to arm itself in order to shoot police officers and members of the military in case a government they consider "tyrannical" appears.
Redrawing the essential line between violent and nonviolent political activity will not always be easy. But if the civil-rights movement, led by women and men suffering from much greater injustices than today's keyboard warriors of political conflict will ever experience, was able to find and hew to the right side of that line, so can we.