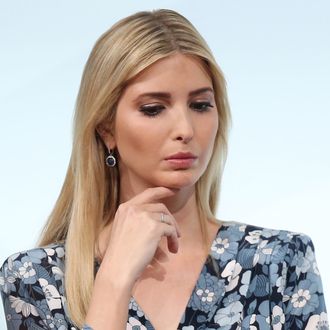 Ivanka Trump is on the latest cover of Us Weekly.
Photo: Sean Gallup/Getty Images
While her father feeds the meme cycle on the daily — the orb, "covefefe," that photo with Pope Francis — we haven't seen a good Ivanka Trump meme since she gazed with rapt attention at Canadian prime minister Justin Trudeau back in February. Or at least we hadn't until today. Trump is on the latest cover of Us Weekly, with a headline reading, "Ivanka Takes a Stand: Why I Disagree With My Dad." Inside the magazine, the full story is entitled, "How Ivanka Trump Influences Her Father Donald Trump." Trump, remember, was appointed "special assistant to the president" at the end of March, despite previous insistences that she didn't want a formal government role. It quotes a number of sources close to Ivanka, who say the first daughter was "disappointed" by her father's recent decisions regarding the Paris climate agreement.
Throughout the first 100-plus days in the Trump administration, Ivanka's middle name, at least as far as dictionary Twitter and Saturday Night Live are concerned, has become "complicit." So a headline proclaiming she disagrees with her father is, well, something. And, being that it's 2017, the headline has already become a meme. Don Draper, Darth Vader, and generic dads everywhere, please take note. This is why your children disagree with you.