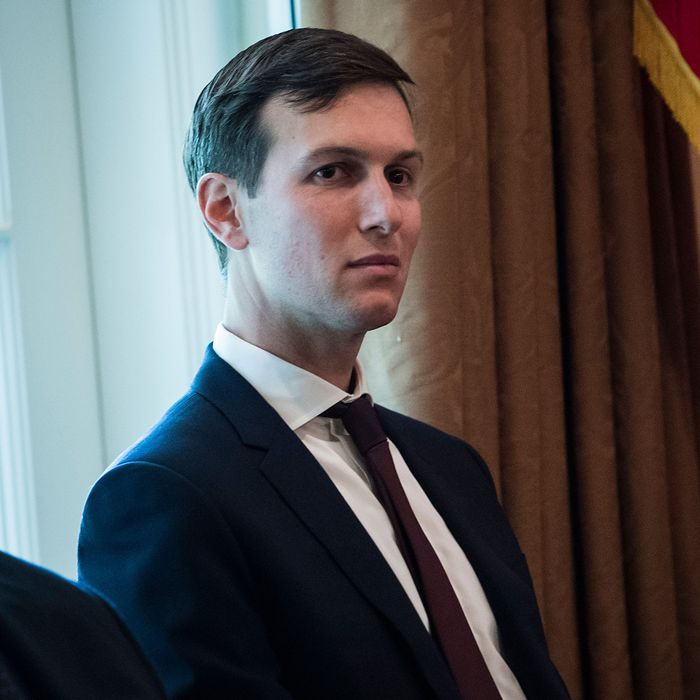 Paranoid off the Kush.
Photo: Jabin Botsford/The Washington Post/Getty Images
Jared Kushner is looking for a new attorney. The search began last month, right after word leaked that Kushner had tried to set up a secret communications channel between the Kremlin and the Trump transition team, the New York Times reports.
At present, Kushner is represented by Jamie Gorelick, who was a partner with Robert Mueller at the powerhouse Washington law firm WilmerHale — until the Justice Department invited Mueller to leave the private sector for a gig as special prosecutor.
In their interviews with the Times, Kushner's allies suggested that Gorelick's ties to Mueller had prompted the senior White House adviser to explore other options. Gorelick herself seemed to confirm this rationale in a statement Sunday.
"After the appointment of our former partner Robert Mueller as special counsel, we advised Mr. Kushner to obtain the independent advice of a lawyer with appropriate experience as to whether he should continue with us as his counsel," Gorelick wrote.
But there's reason to think Kushner's search is about more than his current lawyer's theoretical conflict of interest. Gorelick is a respected attorney who has shepherded many a client through government investigations. But she isn't known as a trial lawyer. Which is to say: She's an excellent choice for someone who's just looking to get through a bunch of interviews with investigations without making any big mistakes. If you've already made a mistake big enough to potentially land you in a courtroom, however, you're gonna want a mercenary with more experience on that terrain.
And Kushner appears to want the latter.
[P]eople within Mr. Kushner's circle recently reached out to some courtroom litigators about possibly joining his legal team. Among the lawyers contacted, one person said, was Abbe D. Lowell, a prominent trial lawyer whose previous clients include Jack Abramoff, the powerful Republican lobbyist, in a corruption scandal that shook Washington in 2005. Mr. Lowell is currently defending Senator Robert Menendez, Democrat of New Jersey, against federal corruption charges.
Last week, the Washington Post reported that Mueller is investigating Kushner's "finances and business dealings," as part of his probe into alleged collusion between the Trump campaign and Russian government.
At a December meeting with Russian ambassador Sergey Kislyak, Kushner reportedly proposed setting up a secure line of communication between Trump officials and the Kremlin — secure, specifically, from the prying eyes of America's intelligence agencies. That suggestion proved too forward for the Russians. 
Nonetheless, Kislyak set up a subsequent meeting between Kushner and Sergey Gorkov — a confidante of Vladimir Putin and head of the state-owned Vnesheconombank.
The White House has claimed that Kushner's meeting with Gorkov was a diplomatic one. 
But in March, Gorkov insisted that the meeting was a business affair, saying Trump's son-in-law had met him in his capacity as "the head of Kushner Companies."
Investigators are likely concerned that both men were telling the truth: At the time of their meeting, Kushner's company was seeking financing for its embattled $1.8 billion purchase of 666 Fifth Avenue, while Gorkov's bank was seeking relief from U.S. sanctions.
Perhaps, diplomacy is serious business.