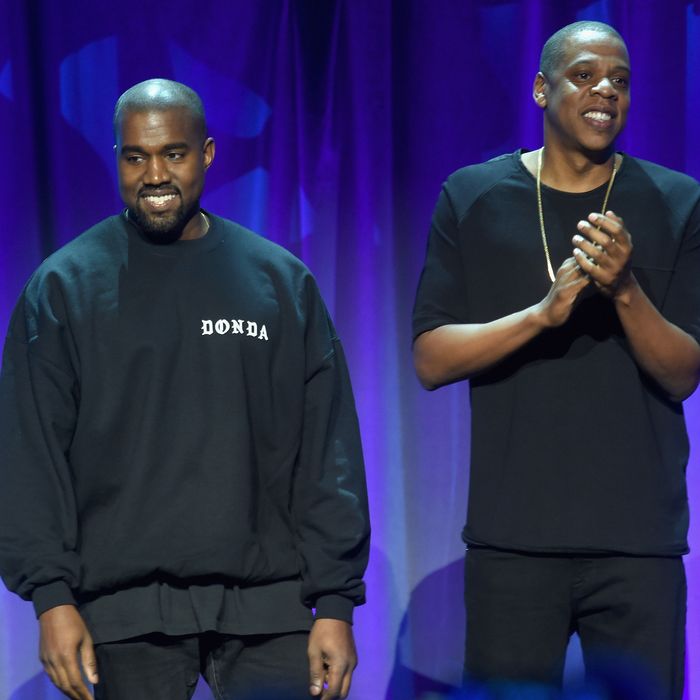 Kanye West and Jay-Z.
Photo: Jamie McCarthy/Getty Images for Roc Nation
Last night, Jay-Z unveiled his last album, 4:44. I am not a Tidal subscriber, so I have no idea what it sounds like, but from what I understand, it's … good? What I do know is that lots of other people — including some journalists — are also not Tidal subscribers, because they've been sharing a completely fake lyric in which Jay-Z insults Kim Kardashian (and, by the transitive property, her husband Kanye West).
Late last night, as people began dissecting the album, the following couplet surfaced:
And I was never a fan

My wife a queen, not a Kardashian
Many years ago, the weird scansion and eye-rolling dullness of the lyric would have immediately pegged it as fake, but this is 2017 Jay-Z we're talking about, so the technical failings aren't exactly an obvious tell. And because it's hard to check for the lyric if you lack a Tidal subscription, it's easy for the trend to spread far and wide. Even the Wrap quoted it in a write-up, despite not having heard the lyric itself.
Who was behind the plot? Extensive research (manually scrolling through 11 hours of tweets quoting the fake lyric) brings us to Twitter user @Voxmaus, who was the first to tweet it shortly before midnight last night. It got decent traction, including a retweet from Huffington Post front-page editor Phil Lewis, who has more than 60,000 followers.
Manual retweets also indicate that the lyric was tweeted and then shortly deleted by other users with tens of thousands of followers, like @drugproblem, who promptly backtracked.
Others who got solid engagement off of the lyric decided to leave it up anyway, with an addendum.
An unfortunate few waited in anticipation for a lyric that would never come.
And meanwhile, @Voxmaus had a good laugh.