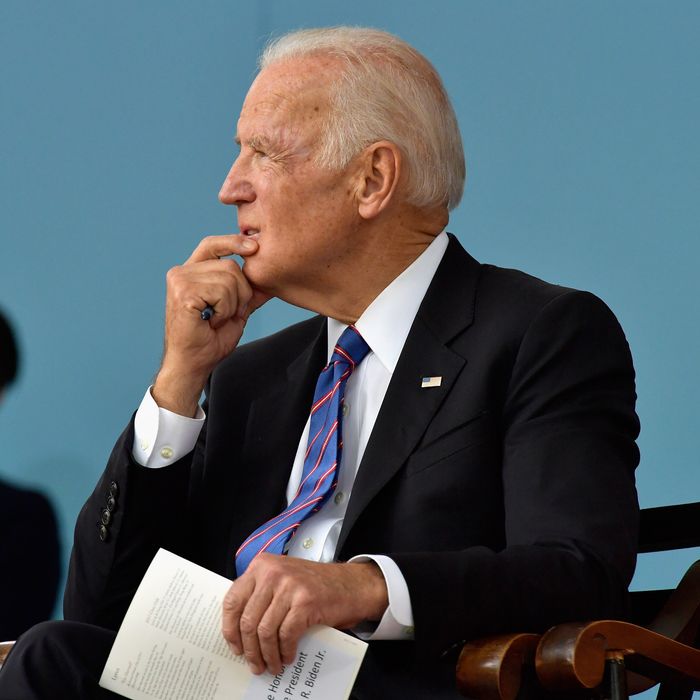 It's too early to talk 2020, but we'll make an exception for Joe.
Photo: Paul Marotta/Getty Images
During the last election, Joe Biden took so long to decide whether to run that we were doing the math on whether he could still win if he missed several states' filing deadlines. In October 2015, he finally announced he wouldn't be entering the race, saying it was too soon after the death of his son Beau from brain cancer.
On Thursday, Biden is set to formally restart the presidential speculation when he launches a new PAC, American Possibilities.
The organization's official purpose is "electing people who believe that this country is about dreaming big, and supporting groups and causes that embody that spirit."
"Thinking big is stamped into the DNA of the American soul," Biden writes in a Medium post set to go live on Thursday. "That's why the negativity, the pettiness, the small-mindedness of our politics today drives me crazy. It's not who we are."
Though he campaigned for Clinton, as Politico notes, Biden made it clear in private and to some extent in public that he was let down by her campaign. He frequently attacked Donald Trump on the campaign trail, and he's been more willing to publicly attack the president in recent weeks.
"I thought we had passed the days where it was acceptable for political leaders at local and national levels to bestow legitimacy on hate speech and fringe ideologies," Biden said at Cornell University's commencement speech last weekend. "This is a temporary state of affairs. The American people will not sustain this attitude for long, I promise you."
Earlier in the month, Biden acknowledged that recent high-profile political appearances had raised new questions about his presidential ambitions. However, he announced, "Guys, I'm not running." On the other hand, several months earlier he told a reporter, "I'm going to run in 2020," then clarified "for president."
People close to Biden reportedly pushed him to launch a PAC during his second term as vice-president, but he held off. The current veep is far less concerned about stirring up political speculation. Mike Pence launched his own PAC, the Great America Committee, a little over a week ago.