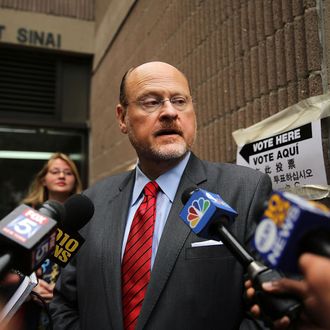 Subway kittens are on notice.
Photo: Spencer Platt/Getty Images
Joe Lhota, a man who once bravely said he would not let the lives of kittens stand in the way of subway performance, is back at the helm of the MTA. Lhota served as MTA chairman from 2011 to 2012, before stepping down to pursue a failed GOP mayoral bid against Bill de Blasio, in 2013. Last night, Governor Andrew Cuomo nominated Lhota to take charge of the MTA during this tumultuous time, just before start of the Penn Station "summer of hell," the looming L train shutdown next year, and whatever signal problems and assorted delays the subway system has cooked up this morning.
Lhota was quickly confirmed by the State Senate after Cuomo's appointment Wednesday, just making the cut before the end of the legislative session in Albany. The MTA has been without a permanent chair and CEO since Tom Prendergast stepped down in early 2017.
Lhota — who has worked on and off in government since the Giuliani administration — is bound to be a pretty popular choice to head up the beleaguered transit agency. Lhota is widely credited for quickly getting the subways back online after Hurricane Sandy, maybe one of the last times in recent memory the MTA got generally positive reviews. His short tenure wan't perfect, but he brought back services nixed in budget cuts in 2010 and — fun fact — revived the Poetry in Motion campaign.
"I am as frustrated as everyone else is, and more frustrated because I know the MTA can do so much better," Lhota told senators during his confirmation hearing via Skype. Lawmakers' only hesitation about the MTA chairman's return was Lhota's decision to keep his job as senior vice-president of NYU Langone Medical Center, reports the New York Daily News. Lhota says he will hire an executive director to take care of the day-to-day, and that he'll serve for a salary of a $1 per year. So put those subway cats on notice.