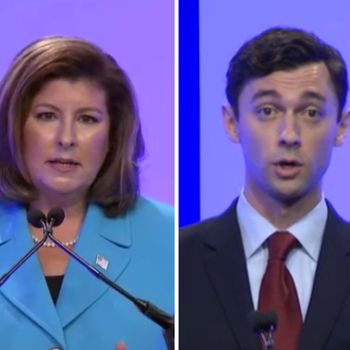 Their two debates have been wonky, but the Handel/Ossoff contest is characterized by a savage air-and-ground war.
Photo: PBA30
Even as Comey-mania broke out in Washington this week, the most expensive U.S. House race in history chugged toward its June 20 climax with fresh signs that Jon Ossoff is in a good position to finally give Democrats the special-election win they crave.
Ossoff has led Republican Karen Handel in all four public polls released since the April 18 first round. The latest, from the Atlanta Journal-Constitution, shows the Democrat up 51 percent to 44 among likely voters.
Early voting in the district is looking significantly stronger than it was in the first round, with nearly 70,000 votes cast already, and a trajectory of perhaps 100,000. Ossoff handily won among the 55,000 early voters in the primary, when the total vote was only 159,000. So this could be another good sign for him, although, as Cook Political Report's David Wasserman says: "The extraordinary pace has Republicans optimistic they've awoken their dormant base."
Lord knows they are trying. Earlier pro-Handel ads from national GOP groups focused on linking Ossoff to Nancy Pelosi, depicting the whole Ossoff campaign as a stealth effort to give San Francisco another congressman. The idea was to remind sixth-district Republicans that the mild-mannered, bipartisan-sounding young man was in fact a Democrat. But now anti-Ossoff ads have taken on a frantic urgency and some of the most over-the-top mischaracterizations of an opponent in living memory. The fake-Trump-beheading Kathy Griffin (who offered an unsolicited endorsement of Ossoff in a tweet not long ago but otherwise has no connection to the campaign or to the candidate) has replaced Pelosi as the demon-figure, as in this new ad from the National Republican Congressional Committee:
The message, which is about as subtle as a 5 a.m. jackhammer, is that any Republican who doesn't bother to vote against Ossoff will be enabling "childish radicals" (an allusion to Ossoff's youth, which apparently makes him suspiciously similar to the window-smashing anarchists in the ad) to destroy the country. The ad even mentions President Trump, which Team Handel has generally avoided in this district he only won by a single point last year. The capper is a quick, grainy image of Griffin high-fiving a young man. It's actually fake-Trump-beheading photographer Tyler Shields, but in the flash of a moment he could sure pass for Jon Ossoff. It should be reasonably clear Republicans are counting on older voters to win this thing.
The two candidate debates (there could be more, though none have been confirmed) have been largely wonky affairs punctuated by Handel stressing Ossoff's inexperience and residency outside the district and Ossoff calling Handel a "career politician." Handel did make one gaffe in the first debate, saying she didn't support a "livable wage," but that was probably not a game changer in this wealthy, conservative district.
With the airwaves super-saturated from now until June 20, the outcome of this election probably depends on the ground game. One theory about why early voting is so high is simply that voters want to get off the campaigns' contact lists and stop the constant phone calls and knocks on the door, which are occurring at levels Georgians have never before experienced. The silence after June 20 will be deafening.