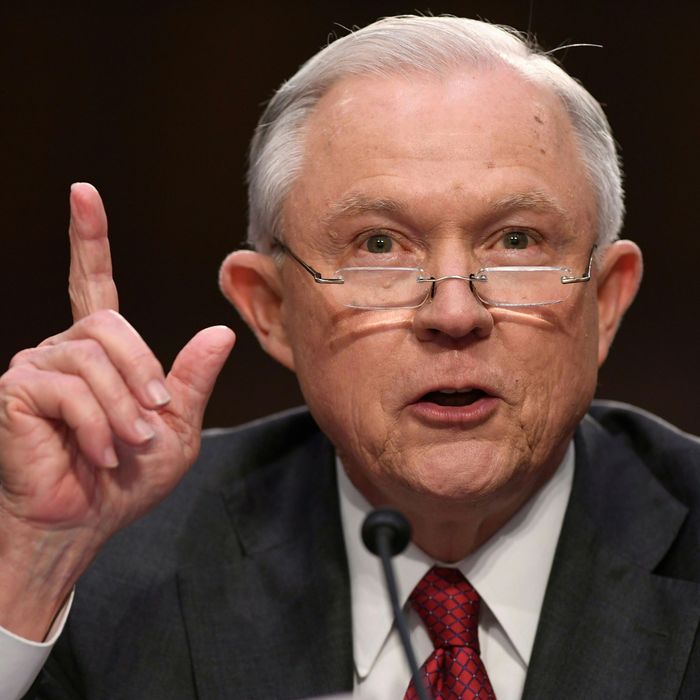 Sessions testifies to the Senate.
Photo: Saul Loeb/AFP/Getty Images
Less than a week removed from James Comey's open Senate testimony, billed as Washington's Super Bowl, Attorney General Jeff Sessions will be grilled today by the Senate Intelligence Committee about his contacts with Russians, among other things. Think of this as Washington's World Series.
At the top of the agenda for Senators on the panel will be the former Alabama Senator's meetings with Russia's ambassador to the U.S., Sergey Kislyak. At his confirmation hearing in January, Sessions said he had no contacts with Russians during the 2016 campaign for the presidency. He later corrected the record and admitted to meeting with Kislyak twice. But last week, Comey reportedly told lawmakers in a closed hearing that Sessions had a third meeting with the ambassador that he hadn't copped to.
Sessions will reportedly deny this third meeting, according to Axios, and "describe the source material for this charge, gathered from intercepted communications between Russians, as of a dubious veracity." He will also push back against accusations of perjury.
Sessions is expected to tell his version of a story Comey relayed last week. As the former FBI director told Senators, after President Trump asked for the investigation into Mike Flynn to be dropped, Comey told Sessions he did not want to be alone with Trump. While Comey remembered Sessions saying nothing back to him, the Attorney General will say he remembers responding.
Sessions should also expect to be asked about his recusal from the FBI's Russia investigation and his subsequent involvement in the firing of James Comey. "Recommending Director Comey's firing would seem to be a violation of his recusal, and Attorney General Sessions needs to answer for that," Senate Minority Leader Chuck Schumer said Monday.
One lingering question about Sessions' testimony is whether and to what extent he will invoke executive privilege to avoid answering questions about his conversations with Trump.
5:30 p.m.
And that's it. Sessions' testimony provided some fireworks, mostly while Democrats pressed him on his unwillingness to answer their questions, while also allowing the Attorney General an opportunity to mount a vigorous defense against claims that he was involved with Russia's attempt to hack the U.S. election.
"The suggestion that I participated in any collusion, that I was aware of any collusion with the Russian government, or hurt this country which I have served with honor for 35 years, or to undermine the integrity of our democratic process, is an appalling and detestable lie," Sessions said early in the hearing.
While that was the point he made most forcefully Tuesday, it was not the one he made most often. "I do not recall" was the phrase of the day. On the issue of a third, undisclosed meeting with the Russian ambassador, he said he did not recall. On the issue of meeting with people who seemed suspicious in hindsight, he said he did not recall. Asked for a "yes" or "no" answer about other Trump campaign officials potentially having meetings with Russian officials, he instead said he did not recall.
On the issue of James Comey's firing, Sessions was less on message. He repeatedly cited the issue of Comey's handling of Hillary Clinton's emails as the reason for his firing, but did not acknowledge that Trump himself said Comey was fired over the Russia investigation. He was also evasive on the issue of executive privilege, declaring at one point that he was "protecting" Trump's ability to invoke it later by acting as if it was already invoked.
In a statement with newfound relevance after yesterday's report that Trump may fire special counsel Robert Mueller, Sessions said that he has confidence in the former FBI director to lead the Russia investigation. That's a good thing for him, because his refusal to answer questions about his conversations with Trump may ensure that he gets to spend a lot more time with Mueller sometime in the near future.
5:03 p.m.
After appearing confused and incoherent at Comey's Senate hearing, Sen. John McCain comes across more as rambling and incoherent in his questioning of Sessions. He does, however, appear to criticize Sessions for meeting with the Russian ambassador after showing little interest in Russia while in the Senate.
4:57 p.m.
Sen. Jack Reed confronts Sessions with his previous statements in support of Comey's handling of the Clinton email case, which he now says was reason enough to fire Comey.
4:50 p.m.
Harris tweets from the dais.
4:45 p.m.
As Sen. Kamala Harris hurries Sessions to give her an answer, he says that she's making him nervous.
Then Sen. John McCain chimes in.
4:40 p.m.
Trending!
4:38 p.m.
Sen. Tom Cotton, hoping that Trump is tuned in, asks Sessions about the danger of leaks. Sessions thanks him for asking the question.
4:32 p.m.
Manchin runs down a list of Trump campaign associates and asks Sessions if they, to the best of his knowledge, met with Russian actors. Short answer: He doesn't recall.
4:28 p.m.
Asked by Sen. Joe Manchin if he could be more forthcoming in a closed hearing, Sessions says he's not sure and cites executive privilege, which he previously said hadn't been invoked.
4:19 p.m.
Sessions reveals that he has never been briefed on the issue of Russia's attempts to hack into the 2016 presidential election. All that he knows of it, he read in the newspapers, he said.
4:15 p.m.
Sen. Angus King returns to the issue of Sessions' refusal to answer some questions posed by the Intelligence Committee. Has the President asserted executive privilege? "No," Sessions says. So why is Sessions refusing to answer some of the questions? "I'm protecting the right of the president to assert it, if he chooses" he said.
4:08 p.m.
Would Sessions have quit the Trump campaign if he knew it was colluding with Russia? "Absolutely," he says.
4:03 p.m.
Sen. Martin Heinrich accuses Sessions of "impeding this investigation."
3:57 p.m.
The reviews are beginning to come in and Sessions passion on the issue of collusion with Russia is convincing some observers. The Comey firing is another story.
3:52 p.m.
Sessions gets angry with Sen. Ron Wyden.
3:49 p.m.
Asked by Sen. Marco Rubio if he was involved with changing the RNC platform to weaken support for Ukraine, Sessions said he did not remember.
3:43 p.m.
On the issue of Comey's firing, Sessions reiterated that the former FBI director was let go largely because of his handling of the Hillary Clinton e-mail investigation. He said Comey engaged in a "stunning" "usurpation" of federal prosecutors authority.
3:35 p.m.
Sessions provides some more details about his meeting with Comey following the former FBI director's conversation with Trump, in which the President allegedly asked him to go easy on Mike Flynn.
"He was concerned about it," Sessions said.
He also disputed Comey's characterization of his lingering in the Oval Office before leaving. "We were there, I was standing there," he said. "I did depart, I believe everyone else did report, and director Comey was sitting in front of the president's desk and they were talking."
3:30 p.m.
Asked by Sen. Mark Warner if he ever had conversations with Comey about his performance as FBI director, Sessions says no. Why does that matter? Because Sessions says Comey was fired becuase of his poor performance.
3:26 p.m.
Sessions says he has confidence in special counsel Robert Mueller. Does President Trump? Sessions has "no idea."
3:15 p.m.
Responding to a question from Sen. Burr, Sessions pushes back against the suggestion that he recused himself from the Russia investigation because he was involved in the investigation. Instead, he said he recused himself because of a Justice Department regulation.
3:07 p.m.
Sessions doesn't deny his involvement in Comey's firing. Rather, he suggests that it was a managerial decision and not outside of his scope of duties, despite his recusal from the Russia investigation. And he might have a point, if Trump hadn't cited the Russia investigation as the reason for Comey's firing.
2:57 p.m.
Sessions denies the alleged Mayflower hotel meeting along with having "any conversation with any Russian or foreign officials concerning any type of interference with any campaign or election in the U.S." He goes on to forcefully deny any attempt to "hurt this country."
2:47 p.m.
Committee Chairman Sen. Richard Burr, who shared a hug with Mary Blackshear Sessions before taking his seat, lays out the questions he hopes Sessions will answer in his testimony.
2:41 p.m.
Sessions is in the room and seated. His wife is in the room too.
2:20 p.m.
Minutes before Sessions arrives for his testimony, President Trump takes off on Air Force One en route to Wisconsin, where he'll tour a technical college and attend a fundraiser with Gov. Scott Walker. It's unclear if he'll be watching the testimony onboard.