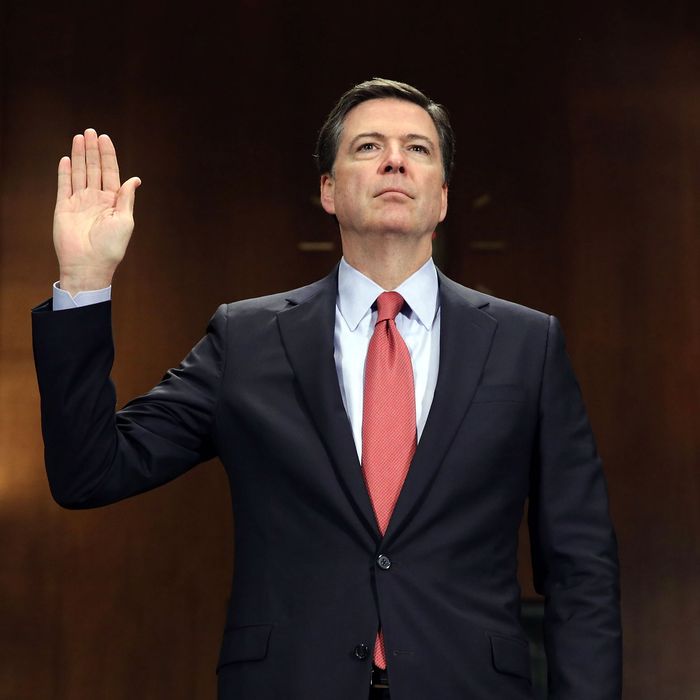 James Comey will testify on Thursday.
Photo: Chip Somodevilla/Getty Images
On Thursday, former FBI director James Comey is scheduled to testify before the Senate Intelligence Committee. His opening statements — which include quotes from Trump demanding loyalty that feel like they could have been lifted from The Godfather — were made available online earlier today. Comey will deliver them formally tomorrow before the committee, during a televised session starting at 10 a.m. If you've got a television handy, just tune into C-SPAN 3 and you're all set. If not, you've got a few options for streaming the hearing from your computer or phone.

Option 1: Watch it on Twitter, courtesy of Bloomberg's @Business account.

Option 2: Stream it directly from the U.S. Senate website. You'll find a link to Comey's testimony, as well as other Senate Intelligence Committee hearings, here.
Option 3: Check out the hearing on PBS, which will be livestreaming Comey's testimony on Thursday morning.
Option 4: CNN will be also be streaming Comey's testimony. You'll find it on the outlet's home page.
Option 5: Watch it online on C-SPAN 3. You'll need a cable log-in for this option.