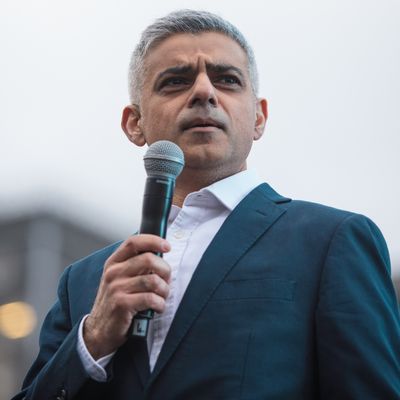 London mayor Sadiq Khan, the latest target of Trump's unjustified Twitter ire.
Photo: Jack Taylor/Getty Images
President Trump responded to Saturday's terror attack in London, which left seven people dead, by falsely claiming that the city's mayor, Sadiq Khan, said there was "no reason to be alarmed." Khan's spokesperson initially said that the mayor would not respond, as he has "more important things to do."
Then, on Sunday, Trump doubled down on the attack, in what may be the worst tweet of his presidency. Though there is video that shows Khan was saying people shouldn't be alarmed by the heightened police presence around the city, Trump said that was just a "pathetic excuse."
During an interview on Britain's Channel 4 News on Monday evening, Khan found a moment to respond to Trump. He suggested the incident is yet another reason that Trump should not be honored with a state visit to the U.K.
"I don't think we should roll out the red carpet to the president of the USA in the circumstances where his policies go against everything we stand for," he said. "When you have a special relationship it is no different from when you have got a close mate. You stand with them in times of adversity but you call them out when they are wrong. There are many things about which Donald Trump is wrong."
Trump's initial attack drew criticism from a number of British politicians, and it prompted the U.S. Conference of Mayors and the acting U.S. ambassador in London, Lewis Lukens, to offer their support for Khan.
Prime Minister Theresa May praised Khan as well, saying, "I think Sadiq is doing an excellent job." However, May declined to directly criticize Trump's comments, and the British government has rejected calls to cancel Trump's state visit.
After May extended the invitation during her trip to the White House in January, more than 1.85 million people signed a petition saying Trump should not be welcomed with a full state visit "because it would cause embarrassment to Her Majesty the Queen." Khan was among those protesting the visit, saying at the time that Trump's immigration ban was "cruel."
The British government responded to the petition by saying that while it recognizes "the strong views expressed," it believes "the president of the United States should be extended the full courtesy of a state visit." The trip is set to take place sometime later this year.
British Foreign Secretary Boris Johnson reiterated on Tuesday that the visit is happening, even though Trump is pressing a false attack on London's mayor in a time of tragedy.
"The invitation has been issued and accepted and I see no reason to change that but as far as what Sadiq Khan has said about the reassurances he's offered the people of London, I think he was entirely right to speak in the way he did," said Johnson.
"I don't wish to enter into a row between those two individuals who are I think are probably perfectly able to stick up for themselves," he added.