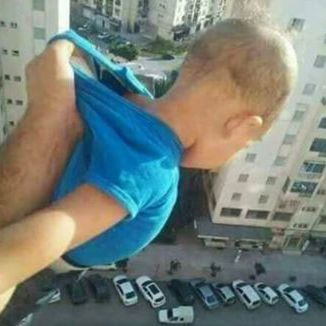 A man in Algeria was sentenced this week to two years in prison after posting photos that show him dangling a baby out of a building window. "1,000 likes or I will drop him," the man reportedly captioned a photo of the incident he shared on Facebook. The window was on the 15th floor, Al Arabiya reports.
The man is related to the baby, BBC reports, and claimed that the photos had been digitally altered to make the child look as though they were in danger. "The picture was taken in a balcony with protective barriers. These were removed," he reportedly said. The baby's father asked the court to forgive the man, but the judge ignored those pleas.
Fortunately, the baby in the photo was not harmed. In an incident earlier this year, a Thai man killed his 11-month-old daughter after hanging her out of a resort window in Phuket. He streamed the murder on Facebook Live and later killed himself.