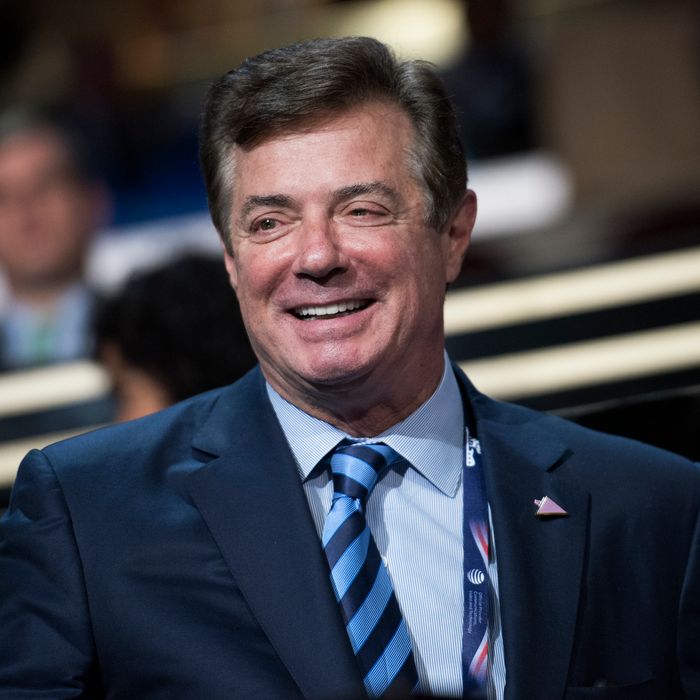 Manafort forgot to mention his work as a foreign agent.
Photo: Tom Williams/CQ-Roll Call,Inc.
Paul Manafort became the second former Trump campaign official to retroactively register as a foreign agent on Tuesday, following former national security adviser Michael Flynn. Manafort, who stepped down as Trump's campaign manager following reports about his work for a pro-Russia political party in Ukraine, disclosed that his firm earned $17.1 million between 2012 and 2014 from former president Viktor Yanukovych's Party of Regions.
The filing shows that Manafort and his business associate Rick Gates, who also worked for the Trump campaign, gave "strategic counsel and advice to members of the Party of Regions regarding their interaction with U.S. government officials and other Western influential persons to advance the goal of greater political and economic integration between the Ukraine and the West." The firm also counseled the European Center for a Modern Ukraine, a pro-Yanukovych nonprofit.
Manafort's firm was hired to help rebrand Yanukovych and the Party of Regions from a pro-Russia party to a pro-European Union party. Manafort signaled that he may register as a foreign agent back in April, when two other U.S. lobbying firms – Mercury and the Podesta Group – disclosed that they were hired for the same purpose.
Just before Manafort stepped down as Trump's campaign manager in August, the New York Times reported that secret handwritten ledgers show the Party of Regions made nearly two dozen undisclosed cash payments to Manafort, totaling $12.7 million. Those payments were reportedly made between 2007 and 2012, predating the period covered by Tuesday's disclosure.
Jason Maloni, a Manafort spokesman, said he's been working on the disclosure since September, "well before any formal investigation of election interference began."
Maloni also said Manafort was primarily focused on campaign work within Ukraine, and noted that Flynn's activities were far worse. "Paul's work ended well before he joined Candidate Trump's campaign," Maloni said. "Unlike Flynn, Paul was not simultaneously working as a foreign agent while he was working for Trump."