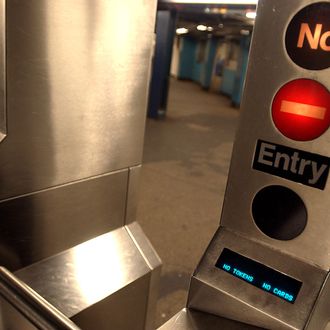 Photo: Ramin Talaie/Corbis via Getty Images
Turnstile jumpers may no longer be charged with a crime for dodging subway fares in Manhattan. Manhattan district attorney Cyrus Vance said Friday that his office would cut back on prosecuting fare-beating cases, starting in September.
Such crimes are on the books as a misdemeanor "theft of service" offense, punishable for up to a year in jail. Right now, most fare beaters are slapped with a civil summons and a fine, a practice that will continue. But serial fare dodgers who might normally face arrest and prosecution will instead be diverted to a social- or community-service program, and, if they follow through, will see their charges dropped, reports the New York Times.
According to the Times, the DA and the NYPD are still working out the details, and prosecutions won't be eliminated altogether. About 10,000 people who were charged with these "theft of services" crimes last year would likely have been eligible for this new diversion program. Vance, in a statement, said the initiative would "further eliminate unnecessary incarceration, and reduce the risks of deportation, loss of housing, and loss of employment that often accompany a criminal prosecution."