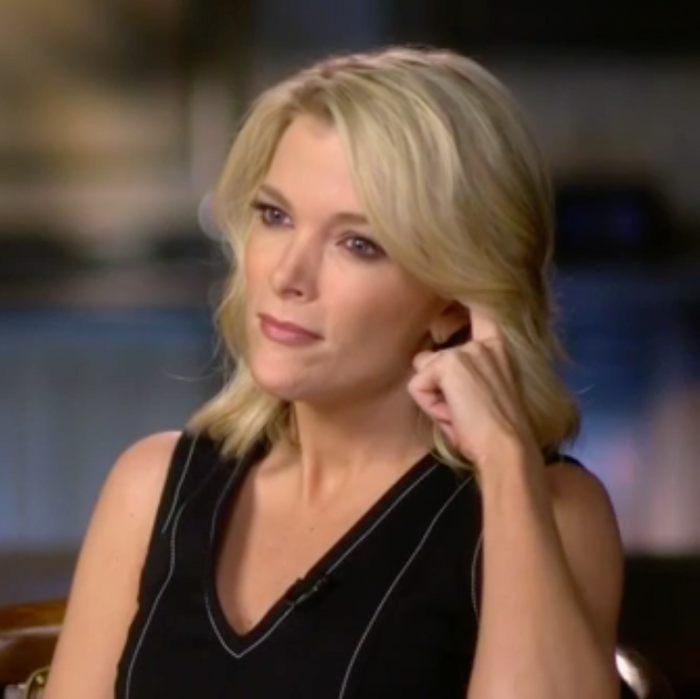 After a week of intense controversy, on Sunday night NBC aired Megyn Kelly's interview with far-right conspiracy theorist Alex Jones … or some version of it. With many complaining that Kelly should not have given a platform to the Infowars host who claims, among other virulent lies, that the massacre of children at Sandy Hook Elementary School was a hoax, NBC reportedly overhauled the piece to make it tougher on Jones. The resulting 20-minute piece offered a heavily edited overview of who Jones is, and the justification for featuring him on Sunday Night With Megyn Kelly.
"Some thought we shouldn't broadcast this interview because his baseless allegations aren't just offensive, they're dangerous," Kelly said at the beginning of the segment. "But here's the thing: Alex Jones isn't going away."
Jones's claims about Sandy Hook generated the most intense controversy, with families of the victims calling on NBC to drop the segment, and NBC Connecticut opting not to air the program. Kelly reached out to the families of Sandy Hook victims in recent days, and Neil Heslin, whose son died in the shooting, agreed to be interviewed.
Jones repeatedly dodged Kelly's questions, and additions were made to the broadcast to make it clear that his claims have no basis in fact. Variety said this made the interview segments seem "stilted," as if they were "carefully extracted out of broader conversation" to emphasize the moments when Kelly urged Jones to disavow his baseless claims.
"I tend to believe that children probably did die there," he said regarding Sandy Hook. "But then you look at all the other evidence on the other side." Kelly countered, in a voice-over, "Of course, there is no 'evidence on the other side.'"
In the L.A. Times, Lorraine Ali questioned why Kelly didn't push Jones harder in the actual interview:
Jones rambled out a senseless, word salad of an answer that cleared up absolutely nothing. "I got home at, like, 6, heard about it. The ages of the victims weren't even known. But they were saying it was jihadi. And I said, 'How crazy is it that liberal trendies are now the victims?' And then I start going and looking. Of course, if there's kids being killed by Muslims, I'm not saying that it's their fault. Of course, if kids are the victims, I'm not saying it's their fault."




And she left it at that. No follow-up. Just this narrated segue from Kelly: "That pattern, reckless accusations followed by equivocation and excuses, is classic Alex Jones." Kelly too was aware that her pointed questions weren't going to get answers. So, really, what was she hoping to achieve?
The Washington Post's Hank Stuever said it appears the controversy spurred NBC and Kelly to put together a better segment:
Unsettling as it may be to have to aired it at all, Kelly's 20-minute segment on Jones and his influence (his fans include President Trump) seemed to have benefited greatly from the pre-criticism and brouhaha that swirled around it last week (one NBC-owned station declined to air it; an advertiser backed out), assuring that Kelly and her producers delivered a tightly edited, firmly reported, no-nonsense story about someone who tells dangerous lies. Kelly's instincts here aren't wrong: Viewers who don't want to hear a single word from Jones need to know more about him and the people who believe him.
Some, like Politico's Jack Shafer, felt Kelly did a decent job of exposing the Infowars host:
Short of waterboarding him, I don't know what more Kelly could have done to expose Jones' dark methods. She was needlessly defensive in her presentation, acknowledging that some people thought the segment shouldn't have been broadcast because it would increase Jones' profile. But as she pointed out, Jones isn't going away, and his audience is growing. What's more, Jones "has the ear of our president," and spurious things InfoWars says have a way of getting repeated by his phone-pal President Donald Trump, who has saluted the InfoWars host in the past. She didn't take Jones down, but really, who could have in a newsmagazine segment? But she did do a credible job of exposing his lies. Give her a B+.
The Hollywood Reporter's Frank Scheck countered that exposing a charlatan like Jones isn't a very difficult task:
[…] it really doesn't take heavy lifting to vilify someone who recently said that the Manchester bombing victims, many of whom were children, were "a bunch of liberal trendies." […] Ultimately, the segment covered all the right bases, albeit frustratingly briefly. But it needed to be far more hard-hitting. This wasn't exactly reminiscent of Edward R. Murrow taking down Joseph McCarthy. But then again, McCarthy was a truly fearsome figure. Jones is just an evil rodeo clown whose fifteen minutes will soon be up. 
Variety's Sonia Saraiya said the segment failed to produce any new information about Jones and actually exposed Kelly as a weak interviewer:
The decision to go after Jones actually put the spotlight on the fact that Kelly, despite the reputation she built at Fox News, is not a great interviewer. She also struggled during her much-hyped sit-down with Russian President Vladimir Putin on "Sunday Night's" debut a few weeks ago. Her talent is less about extracting information from intriguing people and more attuned to leading the audience to a sense of vague unease about her subjects. As evidenced by the segment that immediately followed Jones' — a pearl-clutching take on the phenomenon of (legal) delivery services for (legal) marijuana — Kelly's primary mode is manufacturing and expressing concern, without much thought as to where that concern comes from and why it matters. That reluctance to dig deeper is what doomed the Jones segment. It is hard to not feel that Kelly has just emboldened Jones — an ideologue who will use any angle to advance his pernicious narrative.
Sure enough, Jones, who previously released secretly recorded audio of Kelly promising the story wouldn't be "some gotcha hit piece," complained in a livestreamed video on Sunday night that Kelly and the rest of the mainstream media are misrepresenting his views. Nevertheless, he popped a bottle of champagne and declared the interview a big win.