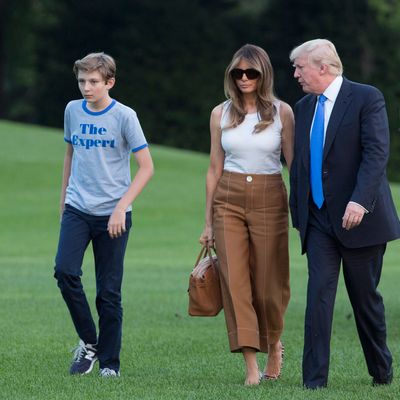 After four and a half months of an even-more-expensive-than-usual life at Trump Tower, Melania and Barron Trump have moved to the White House. President Trump, the First Lady, and their 11-year-old son (who wore a shirt identifying him as "The Expert," which, as far as his father knows, he is) were photographed trudging toward their new home on Sunday evening.
Melania's communications director confirmed that the big day had finally arrived:
Later, Melania tweeted a photo of her D.C. view:
The First Lady, who's spent most of the Trump presidency hiding out in New York, has been a bit more visible recently. Last month, she accompanied her husband on his first big international trip, during which she occasionally remembered to hold his hand. Let's hope that living in the same house doesn't kill the couple's magic.