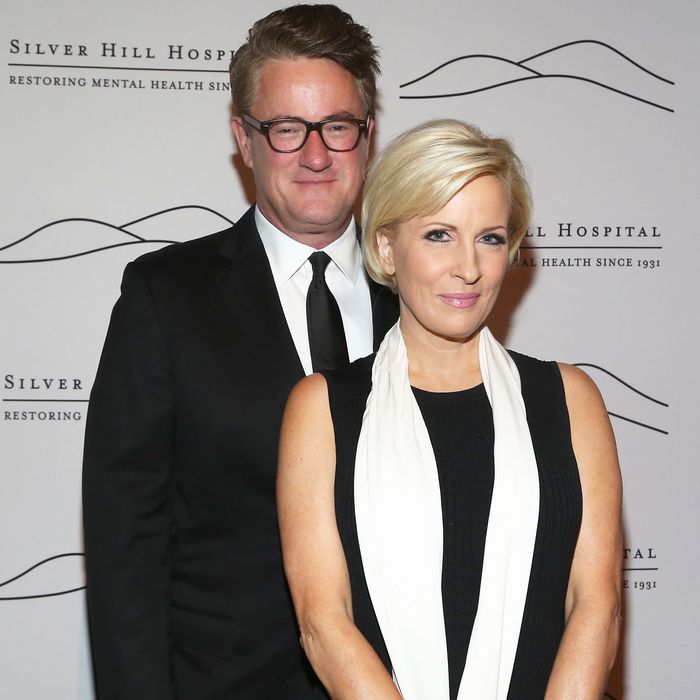 Joe and Mika.
Photo: Sylvain Gaboury/Patrick McMullan via Getty Image
Earlier this year, top White House staff members warned the hosts of MSNBC's Morning Joe that the National Enquirer was about to publish a negative story about them — unless they "begged the president to have the story spiked." That's one of several incendiary allegations in Joe Scarborough and Mika Brzezinski's new op-ed in the Washington Post.
On Thursday morning's show, Brzezinski referenced reports that Donald Trump displays fake Time magazine covers starring himself in at least four of his golf properties.
The president apparently discerned that the host wasn't making an observation about men, in general — but about him, personally.
And when they go low, Donald Trump burrows beneath the Earth's crust into red-hot magma.
"President Trump launched personal attacks against us Thursday, but our concerns about his unmoored behavior go far beyond the personal," Scarborough and Brzezinski wrote at the opening of their op-ed. "America's leaders and allies are asking themselves yet again whether this man is fit to be president. We have our doubts, but we are both certain that the man is not mentally equipped to continue watching our show[.]"
The hosts continue:
The president's unhealthy obsession with our show has been in the public record for months, and we are seldom surprised by his posting nasty tweets about us. During the campaign, the Republican nominee called Mika "neurotic" and promised to attack us personally after the campaign ended. This year, top White House staff members warned that the National Enquirer was planning to publish a negative article about us unless we begged the president to have the story spiked. We ignored their desperate pleas.
That last bit is remarkable for a several reasons. Trump tries to intimidate adversarial members of the Fourth Estate over Twitter and during press appearances on a routine basis. But in this instance, the president conveyed his threat through government officials, using the power of his office — and public servants — to extort a display of sycophancy from two cable-news hosts. It's tempting to say that this is the kind of thing you'd expect in some benighted authoritarian state, but it's increasingly what you'd expect in the good old USA.
Further, the fact that the National Enquirer is serving as the president's personal Pravda is unnerving. Trump already has the nation's most-watched cable-news network in his corner; its largest provider of local news; and one of the most influential gossip websites on the internet.
The Enquirer had, of course, proved its utility to Trump during the campaign, savaging the mogul's political rivals with its signature, psychedelically sensational allegations — including an exposé on Ted Cruz's father's role in the Kennedy assassination.
But the Enquirer's apparent openness to functioning as a tool for the intimidation of Trump's political enemies is especially concerning at this moment, as its publisher is growing its media footprint: In March, America Media Inc. purchased Us Weekly, and the company's chief executive, David J. Pecker, is rumored to have his eye on Time magazine (Trump may never need to use Photoshop again).
On Friday morning, Trump denied the Morning Joe hosts' charge.
It's worth noting that, even in his reply, the president implies that it's within his power to determine what the tabloid does and doesn't run. And the Enquirer's decision to run a weeks-old slideshow titled "Joe & Mika: TV Couple's Sleazy Cheating Scandal" as its website's top story Friday morning would seem to support Trump's suggestion.
Anyhow, Scarborough says he kept the receipts.
The rest of the anchors' column — and the opening segment of their Friday morning show — feature plenty of other details sure to stimulate the nation's interest, and Donald Trump's amygdala. For instance, the hosts suggest that Trump begged them to hang out at Mar-a-Lago last winter, and that they did so, briefly, as an act of generosity.
The central argument of the editorial, however, is that the president of the United States is mentally unwell; this fact is common knowledge among top White House staff; and the emotional volatility that Trump displayed in his Thursday tweets represents a grave danger to our nation.
"During the height of the 2016 presidential campaign, Joe often listened to Trump staff members complain about their boss's erratic behavior, including a top campaign official who was as close to the Republican candidate as anyone," the hosts write. "We, too, have noticed a change in his behavior over the past few years. Perhaps that is why we were neither shocked nor insulted by the president's personal attack."
Scarborough reiterated this claim on his show Friday morning, saying, "somebody at the top of his campaign last summer said to me, we're all really worried about his emotional state."
This isn't exactly surprising. White House staffers appear to spend roughly half their time whispering coded concerns about the president's psyche to any reporter willing to listen.
And yet, forthright discussion about the fact that the president is demonstrably, mentally unfit to hold high office has been in relatively short supply. If Joe and Mika's op-ed helps start that long-belated national conversation, they'll have performed a public service (in addition to a formidable act of trolling).