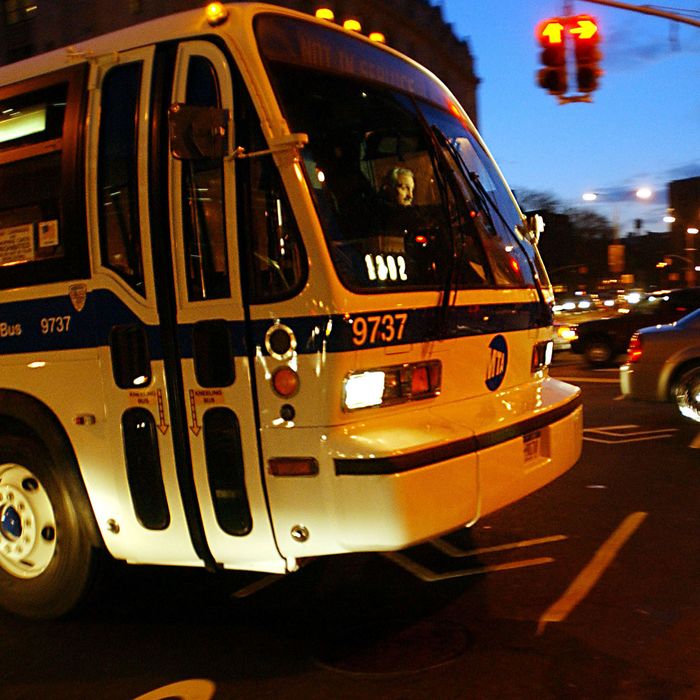 Not the runaway bus.
Photo: RAMIN TALAIE/Bloomberg via Getty Images
Over the last few weeks, riding the MTA has, well, sucked. Subways seem to be breaking down, holding for the train's dispatcher, and trapping people underground for extended periods with alarming frequency. (Just ask the poor folks who were stuck on this F train from hell, without air conditioning or lights, for 45 minutes earlier this month.) This week, the MTA's troubles have come above ground. An MTA bus running on the Queens No. 58 route went rogue in Bushwick early Wednesday morning, rolling backward down Palmetto Street, sans driver or passengers. The bus hit several cars, a church, and sent one person to the hospital with minor injuries. "Please, stop the bus! Help! Help!" the driver yelled while chasing his craft down the street, DNAInfo reports.
The bus eventually came to a stop after hitting a fence and wall outside St. Paul's Evangelical Lutheran Church on Knickerbocker Avenue, NY Daily News reports. Barring any other drivers errantly leaving their buses in neutral — the driver had stepped off the bus to buy something at a bodega — it seems like this incident was probably just a one-off. Please resume chanting, tweeting, or skywriting, "Fix the subway!"