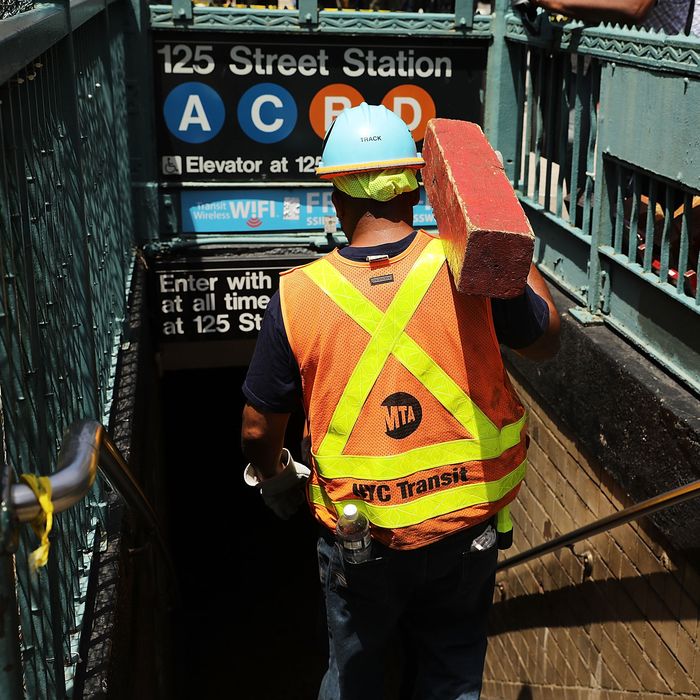 A Metropolitan Transportation Authority (MTA) worker enters a Harlem subway station where a morning train derailment occurred on June 27, 2017, in New York City.
Photo: Spencer Platt/Getty Images
Tuesday morning a southbound A train veered into the wall of a subway, derailing two cars as it approached the 125th Street station. Hundreds of riders had to be evacuated from that train in the pitch-dark tunnel, and 34 people suffered non-life-threatening injuries. As for the rest of the subway system: Hundreds of other commuters had to be evacuated from stalled or stopped trains after the incident, and delays and service disruptions persisted throughout the day and well into the evening commute.
In a statement released late Tuesday, MTA officials attributed the derailment to a replacement rail that was stored on the tracks and "improperly secured," likely from overnight work. Officials described it as a "human error," and added that storing materials on the track is "a common practice employed by railroads across the country to accelerate rail repairs."
Earlier Tuesday, MTA chairman Joe Lhota said the emergency brake had been switched on, which caused the two subway cars to careen off the tracks. The train's motorman is also being interviewed, and will be subject to a drug and alcohol test.
Crews worked furiously overnight to repair the damage from the derailment, which extended from the tracks to the signal and switching mechanisms to the actual walls of the subway tunnel. Express service (A and D) and local service (B and C) has resumed along the line, but the MTA is still warning of "extensive delays."
Which might not have been as bad as expected:
But it wouldn't be the MTA if there weren't some issues: