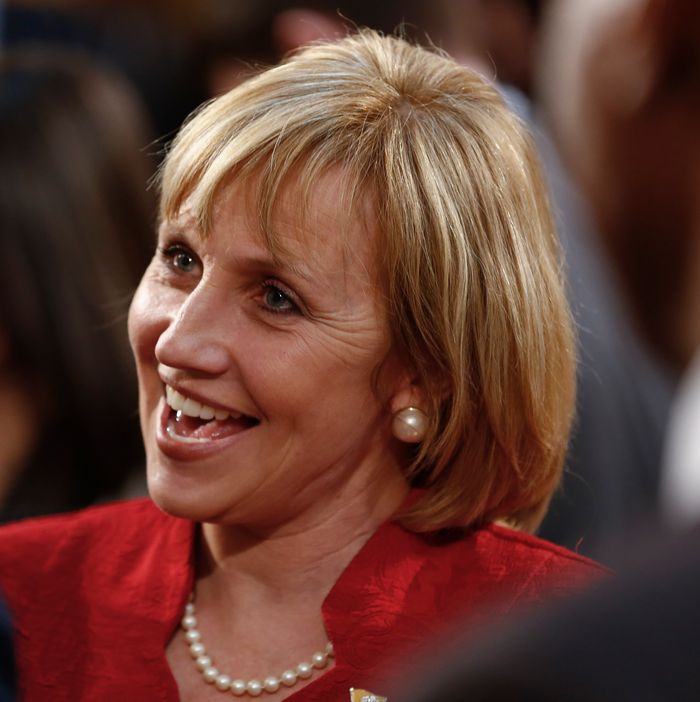 Kim Guadagno has a tough road ahead.
Photo: Jeff Zelevansky/Getty Images
To no one's surprise, the l0w-profile New Jersey gubernatorial primaries were won by the front-running Establishment candidates, Democrat Phil Murphy (a former ambassador to Germany and CEO of Goldman Sachs) and Republican Kim Guadagno (two-term lieutenant governor and heir apparent to current governor Chris Christie) on Tuesday. Both seem headed toward something like two-to-one wins over their most prominent opponents. Gaudagno has only one viable rival — state legislator Jack Ciattarelli — and she's currently beating him by 20 percent. Murphy is doubling up the combined vote of his two viable opponents, John Wisniewski and Jim Johnson.
Guadagno managed to overcome her association with damaged incumbent Chris Christie and took the offensive against Ciattarelli in ads attacking his tax proposals. And Murphy blotted out the sky against his opponents with a massive financial advantage.
Murphy begins the general election as a distinct front-runner, for three reasons. (1) Guadagno's mentor Christie is profoundly unpopular in New Jersey; (2) this is a generally Democratic state that only occasionally elects Republican governors; and (3) the party that controls the White House has lost the last six governor's races in New Jersey. Donald Trump is a particular millstone for Garden State Republicans, having lost the state to Hillary Clinton by 14 points.
This is very much Phil Murphy's race to lose.