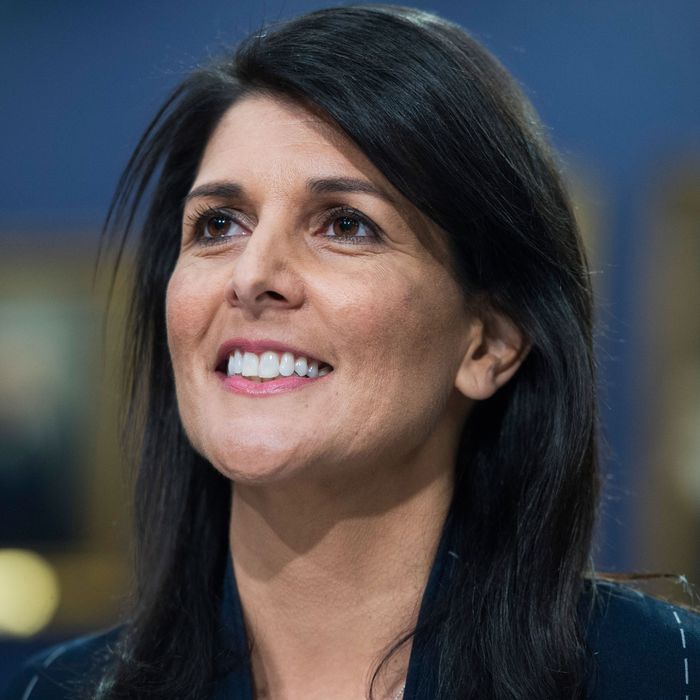 Peacekeeping schmeacekeeping.
Photo: Tom Williams/CQ-Roll Call,Inc.
United Nations member nations agreed on a $7.3 billion annual budget for its peacekeeping efforts Wednesday, saving the U.S. millions of dollars and eliciting an excited response from U.S. ambassador Nikki Haley.
The dramatic cut, which slashed $600 million from the budget, was less than the $1 billion reduction the U.S. initially sought. That would have reduced the U.S. contribution to the peacekeeping fund by 10 percent. Instead, it drops by about 7.5 percent. The U.S. provides 28.5 percent of the peacekeeping budget, far more than any other country and more than double China, which pays second most at just over 10 percent.
The U.N. peacekeeping budget currently funds 16 peacekeeping missions around the world. But missions in Ivory Coast, Liberia, and Haiti are winding down and Haley has pledged to continue reviewing each mission as it comes up for renewal, all with an eye toward saving the U.S. a few extra dollars.
It's a few extra dollars that taxpayers would likely never notice saving. But, according to one diplomat who spoke to Foreign Policy, it could "mean the death of peacekeeping."