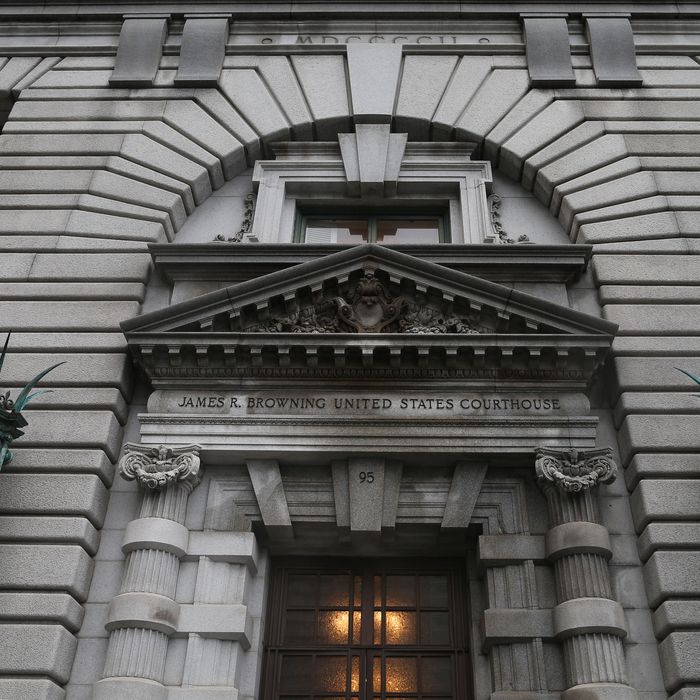 A Ninth Circuit panel again refused to revive Trump's travel ban. But the decision had a couple of interesting twists.
Photo: Elijah Nouvelage/Getty Images
Given the president's (and his allies') serial bashing of the Ninth Circuit Court of Appeals as a godless liberal bastion of judicial activism, it probably raised few eyebrows that a three-judge panel of that Court unanimously upheld a Hawaii federal district judge's injunction against enforcement of Trump's revised travel ban on Monday.
But the Ninth Circuit decision differed in two significant ways from the Fourth Circuit's superficially similar ruling on May 25. The judges did not choose to maintain an injunction against the ban on the First Amendment Establishment Clause grounds emphasized by the Fourth Circuit — an argument that puts heavy emphasis in a controversial way on Team Trump's comments about a "Muslim ban" before the election. Instead, they opted to focus on the claim that the administration did not make the sort of factual findings about national security threats allegedly posed by the people affected that the congressional statute authorizing such actions requires.
Perhaps even more important for purposes of the ultimate disposal of this case, the Ninth Circuit struck down the district court judge's injunction against internal government operations associated with a permanent regime of enhanced vetting. Since the decisions in the Fourth Circuit did not touch on this issue, the administration is presumably empowered to move ahead on that front based on the Ninth Circuit decision.
So, at this point, the Supreme Court can choose between punting and basically telling the administration to forget about what was supposed to be a temporary travel ban, or deciding the case on one or both of the complicated issues cited by the Fourth and Ninth Circuits. Either way, the underlying fight over the president's desire to crack down on people coming into the country who happen to be Muslims will go on, in the courts and elsewhere.