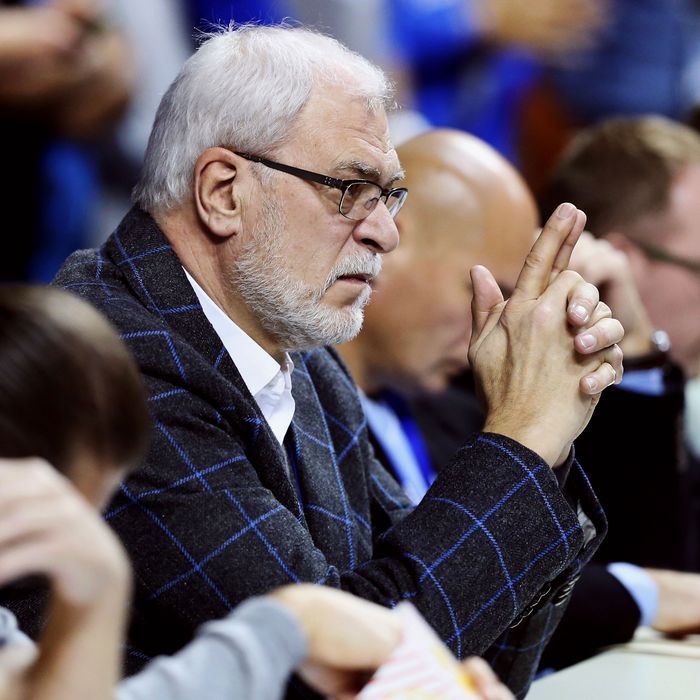 Zen.
Photo: Andy Lyons/Getty Images
The Knicks' firing of Phil Jackson on Wednesday was greeted with such universal glee by the team's fans that it's hard to believe this guy is already a Hall of Famer with 11 championship rings who was introduced at his hiring as "synonymous with winning basketball teams."
But after three years of antagonizing superstars and orchestrating bad deals as the team fell into irrelevance, Jackson had become a pariah in Knicks nation. Still, it took his recent flirtation with trading away the team's greatest asset — 21-year-old budding superstar Kristaps Porzingis — to finally get team owner James Dolan to consider a change. Then Jackson approached Dolan about spending $54 million so Carmelo Anthony, arguably the Knicks' best player, would go away forever. That convinced Dolan that it was time to part ways, according to ESPN's Ramona Shelburne.
Jackson's time in the Knicks' front office will likely be remembered as a disaster, if it's remembered at all. As the Ringer rightly notes, sports fans tend to give legends the benefit of erasing their failures from memory.
There's even a chance the Knicks actually improve in the next few years as Porzingis continues to blossom, Anthony's contract expires, and this year's draft pick, French point guard Frank Ntilikina, shows promise. But any improvement will likely not be due to anything Jackson did, but because he left.
Already, the Knicks are benefiting from leaving behind the triangle offense, an often perplexing system that, along with players such as Michael Jordan and Shaq, propelled Jackson to a fist full of championship rings. In recent years the triangle had become an albatross for the team, with head coach Jeff Hornacek admitting that the slower-than-usual style of play prevents players from signing with the Knicks.
Now the triangle is gone and players are noticing. Free agent point guard Jeff Teague, who has previously said he didn't think he was a good fit for the triangle, is now flirting with joining the Knicks. Others are sure to follow.
As for Jackson's replacement, Dolan has his heart set on Raptors' president of basketball operations Masai Ujiri. The reason is so perfectly Knicks. After watching Ujiri rob his team in trades for Anthony and Andrea Bargnani, Dolan wants to hire Ujiri. What better way to prevent another fleecing? Another candidate for the job is former Cavs general manager David Griffin, whose contract was not renewed this month despite his team's reaching three straight NBA finals.
Whoever it is that replaces Jackson will have a pretty easy job for the next couple years. The expectations for the Knicks are currently zilch. If the team's new president can succeed in not alienating players and begin to execute a path back to relevance, that will be marked improvement over the Jackson era and enough to turn attention back to the man who's truly responsible for the team's miserable state — Dolan himself.