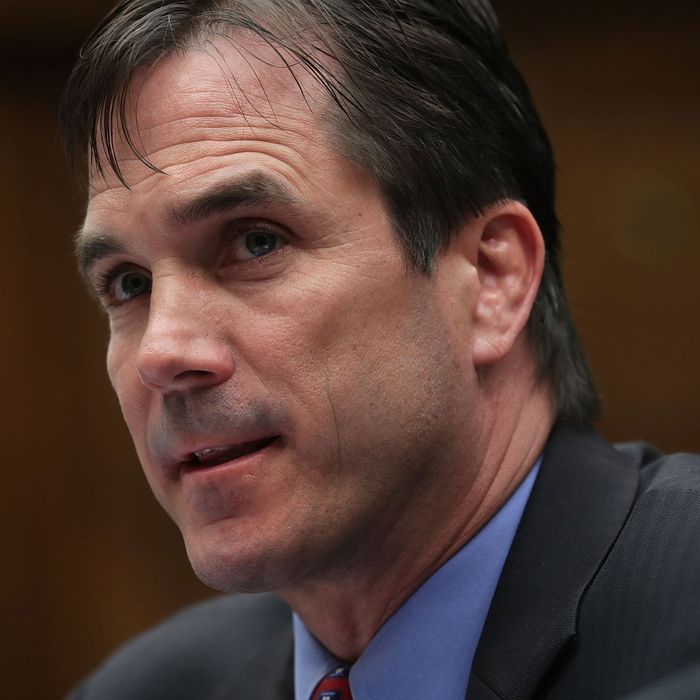 Nick Lyon.
Photo: Alex Wong/Getty Images
Michigan's ill-conceived attempt to cut the city of Flint's water bill ended up poisoning countless children with lead. It also may have killed 12 people with Legionnaires' disease, a severe type of pneumonia.
On Wednesday, the state's attorney general, Bill Schuette, brought charges against two state officials, for their roles in enabling the latter outbreak.
Michigan Health and Human Services Director Nick Lyon knew that there was an outbreak of Legionnaires' in the Flint area by the end of January 2015 — but did not notify the public until a year later, according to the charging documents.
Schuette believes Lyon's silence makes him culpable in the death of area resident Robert Skidmore, and the attorney general has charged the health director with involuntary manslaughter, a 15-year felony. Lyon is also accused of misconduct in office, for allegedly instructing an official to halt an analysis that would have helped to determine the cause of the outbreak.
Chief Medical Executive Eden Wells faces up to seven years in prison, on charges of obstruction of justice and lying to law enforcement. Wells is accused of threatening to withhold funds from the Flint Area Community Health and Environment Partnership if that entity did not cease its investigation into the source of the Legionnaires' crisis. She is also accused of lying to a police officer about when she first learned of the outbreak.
So far, 15 current or former public officials have been charged in connection with the Flint water crisis.
In April 2014, Flint switched the source of its water from Lake Huron and the Detroit River to the Flint River. State officials failed to require the addition of corrosion inhibitors to the water, and, as a result, lead leached from pipes into the city's drinking water.
Between 2014 and 2015, 12 area residents died from Legionnaires' disease and many more were hospitalized. Officials have not definitively linked that outbreak to the switch, but have come close to doing so in public statements, according to the Detroit Free Press.
According to the charging documents, Lyon once justified his handling of the outbreak by saying he couldn't "save everyone" and that "everyone has to die of something."