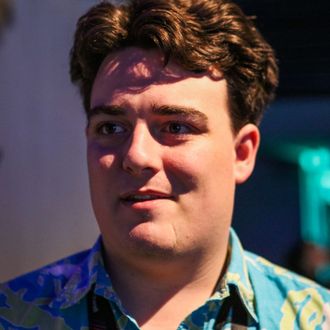 Palmer Luckey.
Photo: Gabriellle Lurie/AFP/Getty Images
After revitalizing the entire virtual-reality industry, selling his company to Facebook for billions, and being taken down by connections to right-wing memes, Palmer Luckey is ready to try again. According to the New York Times, he's got a new venture related to border security, the backing of billionaire and presidential adviser Peter Thiel, and the ear of the Trump administration.
Luckey is apparently working on a way to use LiDAR technology to spot people trying to illegally cross the border, a sort of "virtual" wall that would have the same effect of surveilling vast portions of the region that separates the U.S. and Mexico — the technology is already being used to that effect in parts of the country. The Times writes that, "Those familiar with the plan say Mr. Luckey believes his system, which can be mounted on telephone poles, can be built far more cost effectively than Mr. Trump's proposed wall on the Mexican border — and with fewer obstacles from landowners."
Last October, Luckey was unmasked as the donor who had contributed $10,000 to the Nimble America PAC, which was devoted to anti-Clinton activism, mostly through "meme magic" and shitposting (mostly, a single billboard near Pittsburgh). In the aftermath, he was mothballed by Facebook, and eventually parted ways with Oculus in March. Since then, Luckey has become more politically outspoken. During the Nimble America news cycle, he stated support for Gary Johnson, but in January, he donated $100,000 to the inauguration (on Twitter, he implied he was just currying favor with those in power, as most large businesses try to).
Luckey is reportedly receiving funding from Peter Thiel's Founders Fund, which believes that the start-up would pair well with Thiel's government(-contractor) surveillance operation, Palantir. He also brought the idea up with Steve Bannon, a close Trump adviser, and with Secretary of the Interior Ryan Zinke in a brief conversation. He was referred to the Department of Homeland Security.