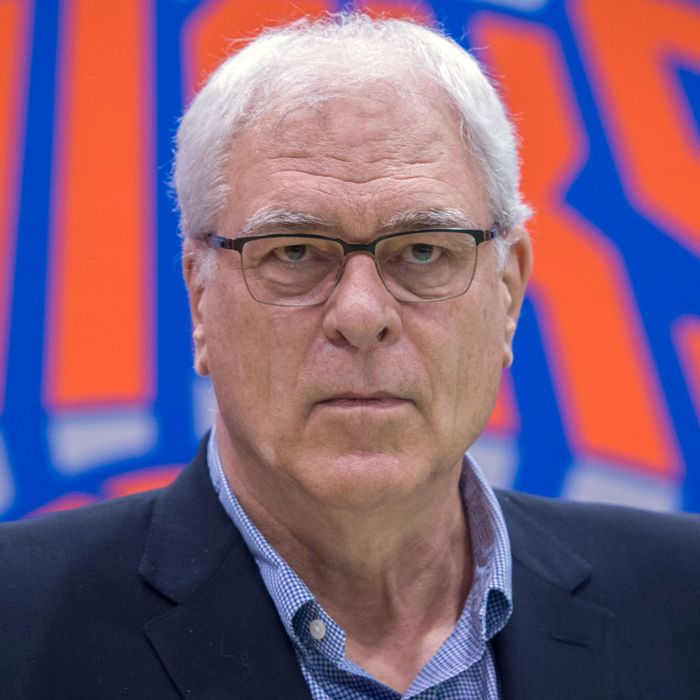 Zen.
Photo: Bryan R. Smith/AFP/Getty Images
As the Knicks stumbled to a 31–51 record this season, delivering fans a fourth consecutive summer without playoff basketball and forcing them to gain an orthopedic surgeon's knowledge of knees, the most faithful among them could at least remain optimistic about one thing: the 21-year-old freak-athlete developing into an NBA superstar despite all the negative forces surrounding him.
Tonight, with the flurry of trades that typically accompany the NBA draft, they may lose that too.
It's hard to believe, but Phil Jackson really is trying to trade Kristaps Porzingis. The Knicks puppet master, who's watched the team go 80–166 under his reign, confirmed in an interview with MSG Network on Wednesday night that he's listening to offers for the 7-foot-three-inch, 21-year-old Latvian with a skill set so unique people call him a "unicorn."
"We've been getting calls. We're listening, but we're not intrigued yet. But as much as we love this guy, we have to do what's good for our club," Jackson said.
What's "good for the club," as Jackson sees it, could involve flipping one of the league's most valuable commodities for a high draft pick and a couple starters. It's about the "future," he said.
But it's also about a petty vendetta. When reports first emerged that Jackson was shopping Porzingis and his nearly 20 points per game, the reason wasn't that the famously Zen team president though he could get a good return. It was because he was pissed that Porzingis skipped his exit interview after the Knicks season came to a merciful end. Jackson confirmed that influenced him on Wednesday.
"As much as we value Kristaps and what he's done for us, when a guy doesn't show up at an exit meeting, everybody starts speculating on the duration or his movability from a club," he said. "I don't think I've ever had a player over 25 years of coaching, maybe 30, not come into an exit meeting."
In addition to being wrong — Shaq twice skipped exit interviews with the Lakers when Jackson was head coach — Jackson is being dumb. Porzingis didn't skip the interview because he was on a yacht. He was reportedly attempting to make a point about the team's dysfunction. Jackson's reaction shows that the point was not taken. And now NBA executives are "eager" to swoop in and help solve this domestic dispute by taking a transformational player off of Jackson's hands.
Another factor contributing to Jackson's willingness to deal Porzinigis is his infatuation with former Kansas Jayhawks Josh Jackson. He's reportedly hoping to get a pick high enough in the draft to select the six-foot-eight-inch wing. But given the recent report that the 71-year-old was falling asleep while watching a prospect, it's possible he was dreaming when he fell so in love with Jackson's game.
As it stands, the Knicks still have Porzingis, though there's some indication they could be working toward something with the Celtics, who reportedly offered their number-three overall pick, an unnamed player, and another lottery pick for him. The Knicks turned that down and have countered with "ridiculous" demands. They also have the eighth pick in tonight's draft. Experts are projecting that Jackson will use that pick on either French guard Frank Ntilikina or former University of Kentucky sharpshooter Malik Monk. But with Jackson, no one truly knows.
Knicks fans would be wise to unplug their TVs, disconnect their routers, and freeze their phones into a block of ice tonight. Go into a closet with a tube TV and VHS copy of game five of the 1973 Finals and hope to wake up in the morning with the future of their team intact. (Or they could go see team owner James Dolan and his roots-rock band play a show in downtown Manhattan.)
For those Knicks loyalists masochistic enough to subject themselves to the potential immolation of their team tonight in Brooklyn, Jackson has some uplifting words. "I think we know what we're doing."