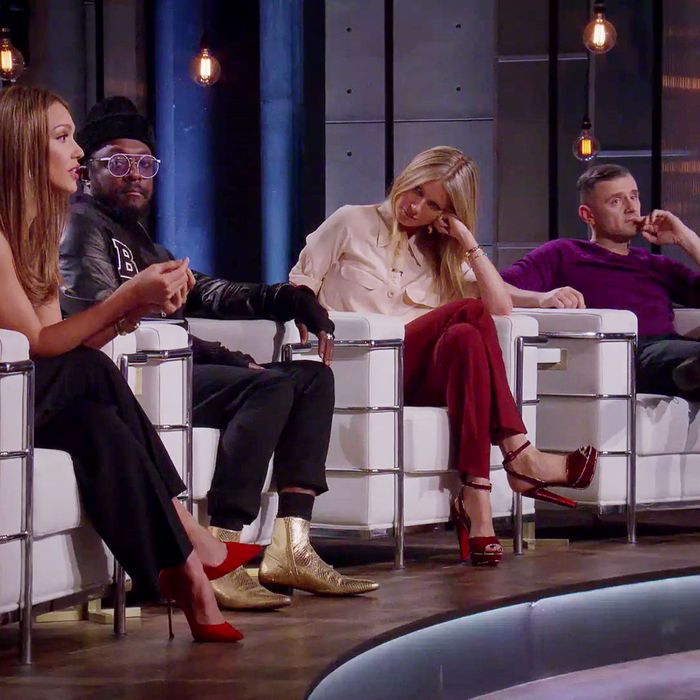 The mere fact that Planet of the Apps exists is enough to make even the most ardent Apple supporter stop and consider that maybe the company is in decline. Planet of the Apps, a 50-minute commercial disguised as a reality TV show, is a cringe-filled mess of a program, caught between roles as a glossy advertisement for Apple's developer ecosystem and a realistic look at what it takes to launch a tech venture.
Before we get into that identity crisis, we have to talk about how convoluted the show's format is. To start off, contestants begin with an escalator pitch to a four-person panel composed of will.i.am (rich entertainer turned tech person), Gwyneth Paltrow (rich entertainer turned tech person), Jessica Alba (rich entertainer turned tech person), and Gary Vaynerchuk (New Jersey wine merchant turned tech person). Contestants stand on a slow-moving platform and have 60 seconds to convince the panel that their idea is at least worth hearing a bit more about. The panel then votes yes or no. At least one "yes" gets appsmiths to the next round. That's where we enter the Shark Tank phase, where contestants demo their app and have a chance to win over doubters.
Assuming all goes well, someone on the panel becomes their adviser. The show then shifts to a more documentary format, where the app-makers learn some hard lessons about the biz. And then at the end, they have to make another pitch (that's three pitch rounds, if you're keeping count) to investors at Lightspeed Venture Partners. It's a messy stacking doll of a show.
The problem at the very heart of the show, however, is that a show about judging apps, produced by Apple, also requires that some apps be deemed bad. After starting off optimistic by matching augmented-reality app Pair with Jessica Alba, the show introduced Twist, a dating app made by a trio of dudes. The conceit of Twist is that it's event-based, you choose an event, and then get to look at other people who will also be attending. The panel of advisers worried that it would end with a "sausage fest" of men all looking to meet up with one woman. Everyone rejected it. Planet of the Apps wants you to know that it is very woke, and that not all apps are good.
The Twist rejection was clearly meant as a prelude to Companion, an app that lets users monitor their friends as they travel alone. That one gets immediate support from all four panelists (very woke), with Gary Vaynerchuk taking its creators under his wing.
And then things get muddy. The main problem with these behind-the-scenes segments on Planet of the Apps is that they don't actually show what goes into making an app. Andrew, the creator of Pair, claims to have the best augmented-reality people in the business working on his app, doing things big companies can't. But we never meet them. We never even see anyone write or look at code. We never see prototyping or brainstorming. It's a very superficial presentation of app development — likely by design — meant to convince viewers that all it takes to make an app is a good idea and the will to follow through.
The saga of Companion briefly touches on the actual issues app developers often need to deal with, specifically Sherlocking, when a large tech company copies a smaller company's functionality, making the latter redundant. In this case, Companion gets Sherlocked by Google. It is, to say the least, supremely weird to watch a company like Apple, which does this stuff all the time, imply that such corporate behavior is wrong or unfair. So Vaynerchuk pushes them to pivot to a premium subscription model. The message is clear: Doing good won't attract investors, but making money off of fear will.
At the end of the episode, Pair, despite the backing of Jessica Alba, got no VC money, and Companion received a million dollars. Yet I can't shake the sense that both stand an equal shot at being successful. But that's how the start-up scene really is: Confusing and arbitrary, with a lot of meetings and tough talk and jargon, and then someone walks away with a million dollars, trying to build a business off of people who are scared of getting assaulted. Okay.
Apple, in general, has a confounding approach to original content. Where companies like Netflix and Amazon see quality content as a way to bring in users, Apple's stuff feels more like marketing. Their Carpool Karaoke spinoff exists as a great way to sell music. You can download every app featured on Planet of the Apps on their App Store, even the ones that suck. Planet of the Apps might not lure in new subscribers, but it'll probably get some who are already there to try some mediocre software.