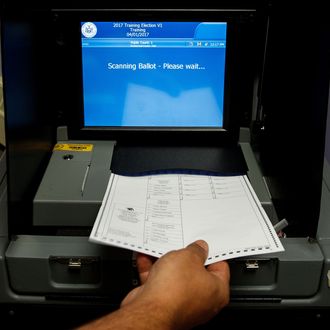 A voting machine.
Photo: Drew Angerer/Getty Images
Last week, government contractor Reality Winner was arrested for allegedly leaking classified NSA documents to the Intercept about Russian hackers' cyberattack on a U.S. voting software supplier just days before the election. Now, Bloomberg expands on those findings, reporting on a "far more widespread" cybercampaign that targeted state and local voter databases and critical software systems in at least 39 states.
Illinois's state-voter database was among those targeted, and the state reached out to the FBI and the Department of Homeland Security after detecting the unauthorized activity. Bloomberg reports that:
Using evidence from the Illinois computer banks, federal agents were able to develop digital "signatures" – among them, Internet Protocol addresses used by the attackers – to spot the hackers at work.

The signatures were then sent through Homeland Security alerts and other means to every state. Thirty-seven states reported finding traces of the hackers in various systems, according to one of the people familiar with the probe. In two others – Florida and California – those traces were found in systems run by a private contractor managing critical election systems.
Obama warned Moscow directly about the cyberattack, but the hacking allegedly continued — right up to Election Day — even after the Kremlin promised it would investigate. There is no evidence that the hackers tampered with the actual vote, and according to Bloomberg, the Obama administration really feared, at the time, that the hackers were more likely to delete voters from the rolls, or slow down vote tallying, which would undermine overall confidence in the U.S. electoral process without changing the final results. One U.S. official did point out a — albeit counterintuitive — silver lining: America's different voting systems across states and counties may have foiled nefarious motives, as hackers couldn't use a one-size-fits-all approach to gain access and control of voting systems. But U.S. officials are increasingly worried that hackers will end up using the 2016 intrusion as essentially a fact-finding mission for the next election — and potentially, and likely more effectively, fine-tune their meddling.