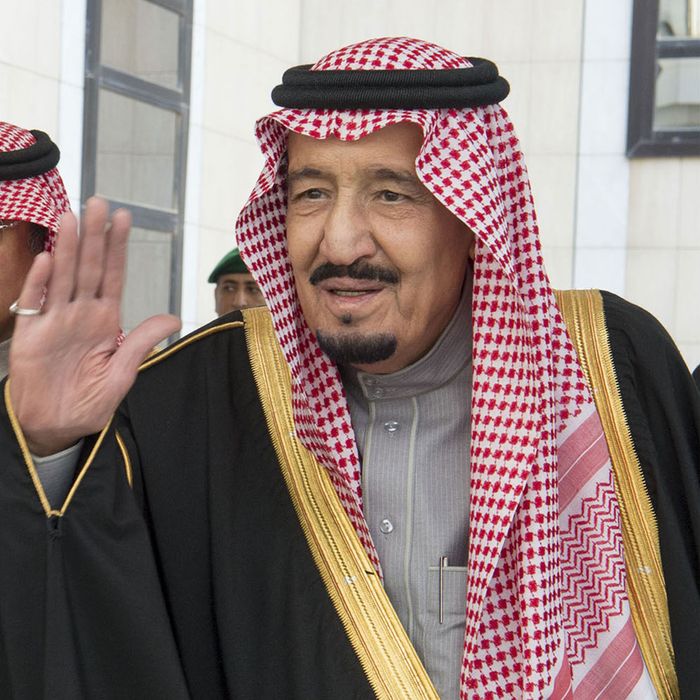 King of Saudi Arabia Salman bin Abdulaziz (r), Saudi defense minister and Deputy Crown Prince Mohammed bin Salman (l) and Deputy Crown Prince and the Minister of Interior of Saudi Arabia Muhammad bin Nayef (c) attend an opening ceremony of new Shura Council in Riyadh, Saudi Arabia, on December 14, 2016.
Photo: Anadolu Agency/Getty Images
The 81-year-old King Salman of Saudi Arabia has named his 31-year-old son Prince Mohammed bin Salman to be next in line to Saudi throne. The shakeup puts the hawkish, young Prince bin Salman — he serves as Saudi Arabia's minister of defense — even closer to power at a time of mounting tensions in the region, from Riyadh's intensifying rivalry with Tehran to the current diplomatic crisis with Qatar.
King Salman ousted the 57-year-old previous crown prince Mohammed bin Nayef from the line of succession, and also from his post as interior minister, reports the New York Times. Saudi state media is pushing the line that this is a tidy reshuffle. Here's Nayef kissing the hand of the guy that just took his job:
Prince bin Salman's profile has risen in recent years, and his vast portfolio and youth led some to draw comparisons to another powerful son(-in-law) Jared Kushner. Prince bin Salman has been the primary architect of the war in Yemen, which began in 2015 as a bombing campaign against Houthi rebels, and has spiraled into a social, economic, and humanitarian crisis.