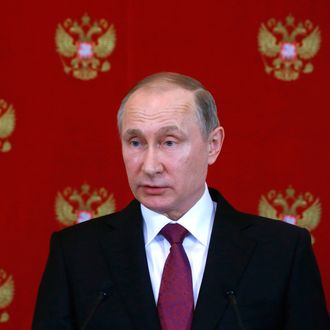 Photo: Sergei Chirikov/AFP/Getty Images
The Senate has reached an agreement to further sanction Russia for its meddling in the 2016 election, as well as its military activities in Ukraine and Syria. The bipartisan deal also includes a provision allowing Congress to review and potentially prevent the White House from rolling back penalties on Russia. Since November, various members of President Trump's circle have reportedly floated the idea of easing the sanctions ordered by President Obama, with Trump himself saying that he was considering it shortly after his inauguration. Secretary of State Rex Tillerson has since said, "The United States sanctions will remain until Moscow reverses the actions that triggered our sanctions," but Trump and Tillerson are not always on the same page.
From Reuters:
Besides the provision setting up a process for Congress to review changes in sanctions, the measure would put into law sanctions previously established via presidential executive order, including some on certain Russian energy projects and debt financing in some industries.It would impose new sanctions on Russians found to be guilty of human rights abuses, supplying weapons to Syria's government and conduct cyber attacks on behalf of Russia's government, among others. The measure also would allow new sanctions on Russian mining, metals, shipping and railways.
The legislation, which will be attached to a bill sanctioning Iran, has broad support from Republicans and Democrats and is expected to pass the chamber. (Those who believe that Senate Democrats should be devoting all of their energy to trying to stop the secretive passage of the GOP's terrible health-care plan probably won't be too impressed by the sight of the parties coming together on this issue.) In order to become law, the House will have to approve the bill, and the president will have to sign off on it. Of course, Trump could veto the measure, though that would look pretty bad in the context of the many investigations into whether his campaign colluded with Russia. On the other hand, he often doesn't seem to care about looking bad.